The victims of a fire inside a Mexican migrant detention center Monday night were trapped behind padlocked doors at an overcrowded jail that filled with smoke as they fruitlessly yelled for help.
At least 40 people died as result of the fire inside Estancia Provisional de Ciudad Juárez, where they were detained.
It is estimated to have a capacity of 60 people, said Blanca Navarrete, the director of Comprehensive Human Rights in Action in Ciudad Juárez. Authorities have said at least 68 people were killed and injured in the facility. In addition, about a dozen women had been detained at the facility right before the fire broke out, Navarrete said.
Human and immigration rights advocates said that while they were horrified by the deaths, they were not surprised that such a tragedy occurred in one of Mexico's detention facilities.
"We've been working hard to limit this detention, because this is exactly the kind of thing that happens," said Gretchen Kuhner, the director of the Mexico-based group Women in Migration. "The Mexican government tries to call them other things, but people are detained there, under lock and key, and they cannot leave. … I've been here for 25 years in Mexico, and we've been working on the sickening cases that we have."
A 30-second video from inside the center posted on Facebook by Equipo De Rescate Cd Juárez, a local group that assists in emergency events, shows the fire starting to consume the center as someone behind bars starts kicking the padlock in an attempt to open it. Two guards can be seen standing in front of the padlocked door, pacing back and forth.
The upper floor of the immigration processing center in Ciudad Juárez served as a detention jail. While Kuhner hadn't been in the Juárez one, she said, other detention centers she has seen are spaces that have been converted from immigration offices into jails, so they don't usually have adequate facilities.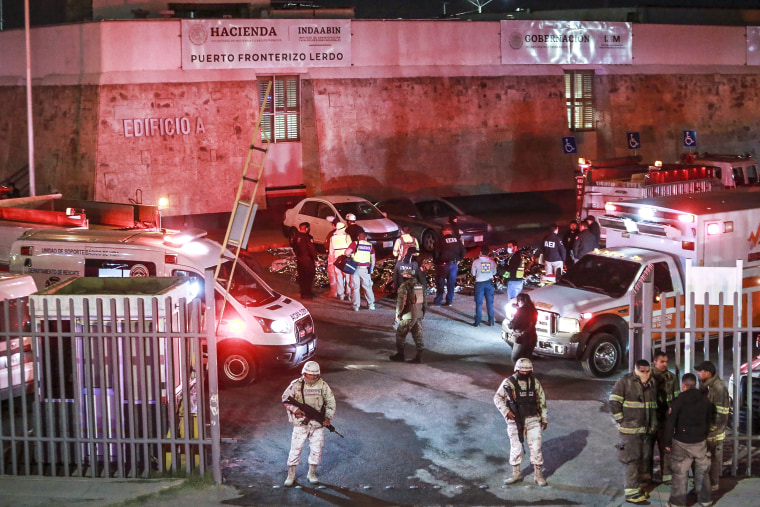 "They should have limits on the number of people who can be locked up, and they're supposed to have protocols," she said.
While migrants and refugees have been detained, Mexico has kept outsiders from entering, said Rachel Schmidtke, a senior advocate for Latin America at Refugees International, which works with migrants and refugees.
"This is a huge issue in Mexico that civil society organizations are not allowed in migration stations, and it's very difficult for people that are not authorized by the INM to enter into these facilities, which means they're kind of black boxes," Schmidtke said, referring to the National Migration Institute.
Navarrete, of Comprehensive Human Rights in Action, which advocates for migrants and LGBTQ people, said those who have gotten glimpses inside the small facility in Ciudad Juárez have seen that men and women have separate detention areas where "all doors have padlocks." The facility doesn't have medical personnel, Navarrete said.
Mexico's Supreme Court declared some of the country's immigration laws regarding detention to be unconstitutional on March 15, which Kuhner said was a victory after various groups have been working since the year 2000 to shut the country's detention centers down.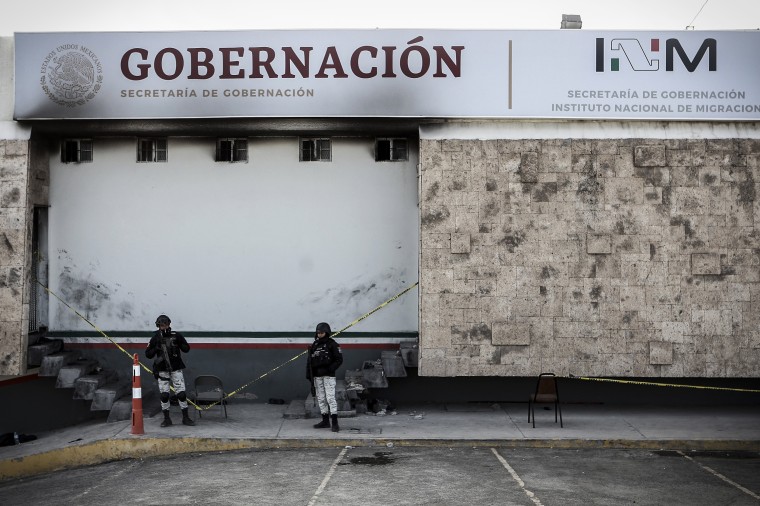 Betty Camargo, the state programs director for the Border Network for Human Rights, said she has been speaking to migrants who witnessed the fire. Many have been waiting in Mexico for months to get into the U.S. legally.
Migrants who were in the center at the time of the fire had been picked up and detained by authorities on Monday, Camargo said.
Migrants described to Camargo instances of overcrowding in which an area meant to hold 20 people sometimes had double that number, she said.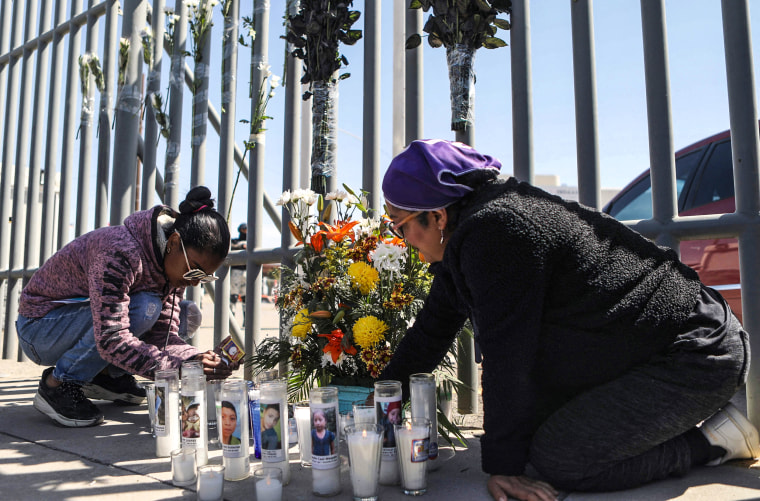 Anthony Gonzalez, a Venezuelan migrant who was held at the facility last week after U.S. authorities sent him back to Mexico, told Noticias Telemundo hundreds of people were inside the facility when he was held there last week.
Mexican President Andrés Manuel López Obrador said the fire was started by migrants who were protesting possible deportations.
But there has been pushback against that narrative.
"It is a situation that remains under discussion, because the people admitted are searched and stripped of belongings and artifacts that could damage their integrity," said Emilio López, a researcher at the Autonomous University of Chihuahua. "That is, how did they start a fire if they even took the laces out of their shoes?"
"It also shows that in Mexico there is a structural violation of the human rights of migrants and a lot of negligence," López said.