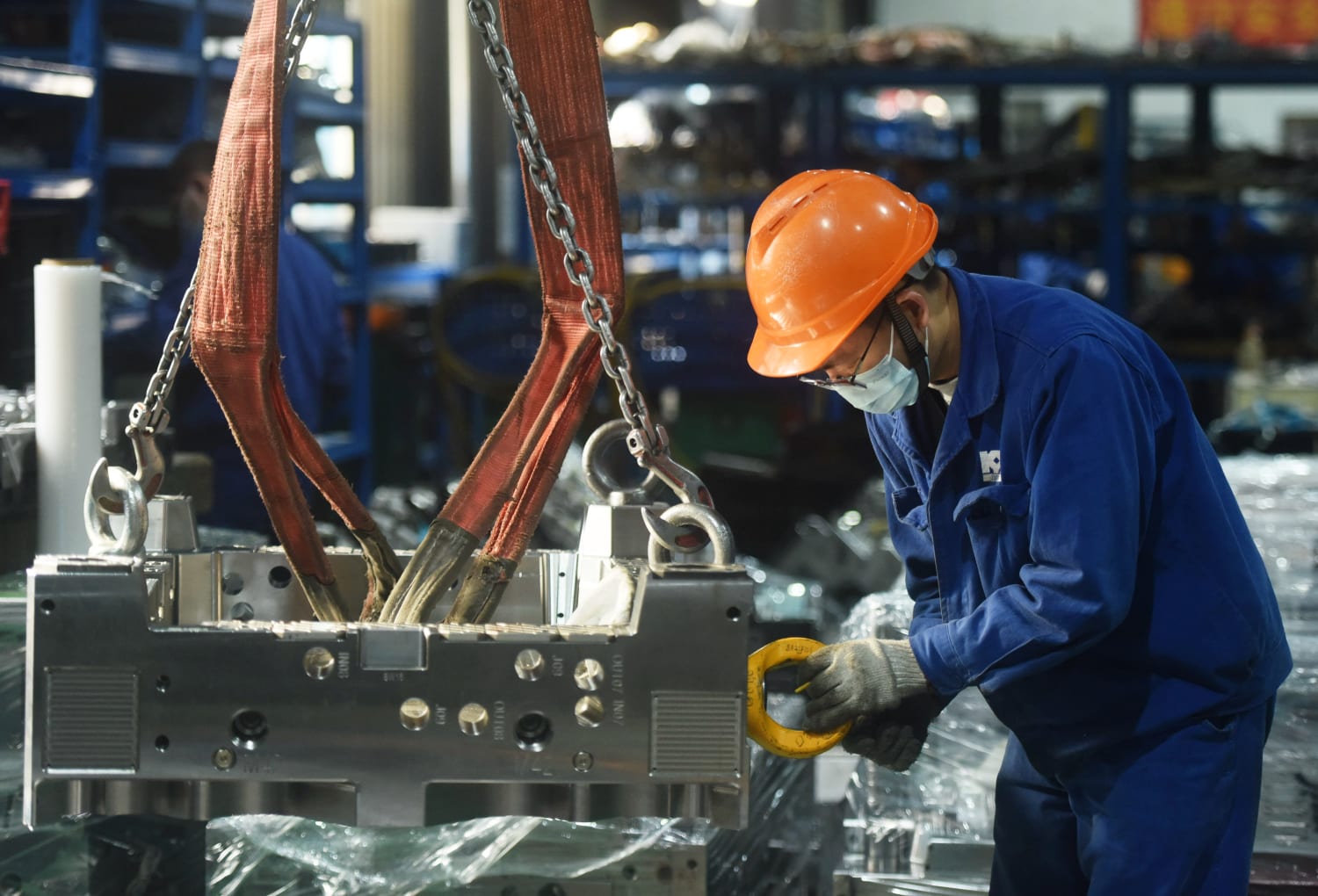 BEIJING — China reported GDP growth for 2022 that beat expectations as December retail sales came in far better than projected.
GDP grew by 3% in 2022, the National Bureau of Statistics said Tuesday. That was better than the 2.8% forecast in a Reuters poll. The GDP growth number did miss the official target of around 5.5% set in March. In 2021, China's growth had rebounded by 8.4% from just 2.2% growth in 2020.
Fourth-quarter GDP rose by 2.9%, beating expectations from the Reuters poll of 1.8% growth.
Kang Yi, director of the National Bureau of Statistics, cast China's 3% growth as "relatively fast" in light of unexpected situations and in contrast to Germany, the U.S. and Japan.
However, he said the global trade situation was not optimistic, and that the world economy may face stagflation.
"Businesses still face many difficulties in production and operation, scientific and technological innovation is not strong enough, and people still have considerable difficulties in employment," Kang said in Mandarin, translated by CNBC. "We still need to make strenuous efforts to promote overall economic improvement."
Kang said he expected real estate would not drag down growth in 2023 as much as it did in 2022. He also said he expects consumer prices will overall be stable in 2023 and that there's no basis for a major increase.
Looking ahead to this year, JLL's Bruce Pang expects support for the property market and the ability of people to move freely will help retail sales recover to 8% growth by the fourth quarter.
Retail sales drop far less than expected
Retail sales fell by 0.2% for the year. But retail sales in December declined by 1.8% from a year ago, less than the expected 8.6% plunge predicted by a Reuters poll.
Within retail sales, those of catering fell by 6.3% in 2022. Sales of apparel, cosmetics and jewelry all declined for the year. Medicine was one of the bright spots, after sales surged by nearly 40% in December from a year ago.
Online retail sales of physical goods rose by 17.2% in December from a year ago, according to CNBC calculations of official data accessed through Wind. Those online sales accounted for 27.2% of total retail sales.
In 2022, the metropolis of Shanghai locked down for about two months in an attempt to control a Covid outbreak. China's stringent zero-Covid policy restricted travel and business activity across the country.
Authorities abruptly relaxed most controls in early December, amid a surge in local infections. While far more people plan to travel around the upcoming Lunar New Year, analysts expect Chinese consumer sentiment will take a few months to recover.
Industrial production rose by 3.6% in 2022. The figure rose by 1.3% in December, well above the 0.2% predicted by the Reuters poll.
Fixed asset investment for 2022 rose by 5.1%, slightly above the 5% expected by Reuters. Infrastructure investment on a year-to-date basis grew faster in December than in November, while investment into manufacturing slowed its growth. Real estate investment fell by 10% in 2022, a steeper drop than recorded for the year through November.
The unemployment rate in cities was 5.5% as of December, while that of younger people ages 16 to 24 remained far higher at 16.7%.
"The foundation of (the) domestic economic recovery is not solid as the international situation is still complicated and severe while the domestic triple pressure of demand contraction, supply shock and weakening expectations is still looming," the statistics bureau said in a release.
Last year, locals' penchant to save soared to record highs. Uncertainty about future income remained high. Youth unemployment hit a record high of nearly 20% in July.
Retail sales also started to decline year-on-year in October.
China's other major growth drivers have tapered off.
Real estate remained in a slump, despite authorities' easing financing restrictions for developers and homebuyers. Exports started to fall in October on a year-over-year basis — the first decline since May 2020, according to Wind Information.
In December, exports and imports both fell, albeit by slightly less than analysts expected. Economists anticipate a drop in demand for Chinese goods from an economic slowdown in the E.U. and U.S.
China's leaders are set to announce the full-year GDP growth target in March at an annual parliamentary meeting. It will be the first such gathering since Chinese President Xi Jinping consolidated his power in October at a national congress of the Communist Party of China.
Source link