TEL AVIV — Defense Secretary Lloyd Austin stressed the importance of an "independent judiciary" on a visit to Israel on Thursday, as thousands took to the streets across the country to protest against government proposals to overhaul the legal system.
Austin, whose schedule was rearranged to keep his engagements close to Israel's main international airport, told a news conference that both countries "shared values of democracy and freedom and the rule of law." 
"As President Biden has said, the genius of democracy, of American democracy and Israeli democracy is that they are both built on strong institutions, on checks and balances, and on an independent judiciary," he said after meeting with Israeli Prime Minister Benjamin Netanyahu and Defense Minister Yoav Galant.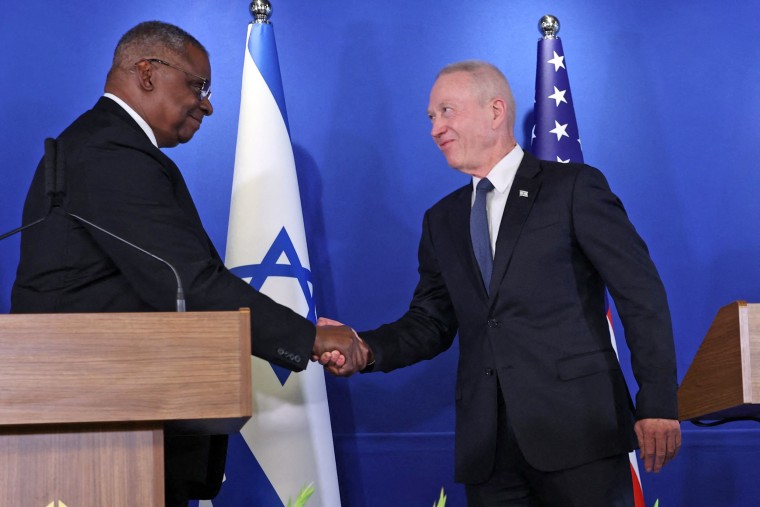 His comments came after Netanyahu was airlifted by helicopter to the Ben Gurion Airport near Tel Aviv, according to The Associated Press, which reported that it was the only way he was able to elude the flag-waving Israelis who had blocked nearby roads. 
Launched as the "day of resistance to dictatorship," the demonstrators made blocking Netanyahu's route to the airport a centerpiece of their protests and the optics of the Israeli leader having to make alternate travel plans were a win for the movement.
Protesters blocked main intersections and scuffled with police in other cities and a small flotilla of paddleboards and kayaks tried to close off a main maritime shipping lane off the northern city of Haifa, the AP reported. It said that some protesters barricaded the Jerusalem offices of a conservative think tank helping to spearhead the judicial changes.
The legal overhauls were proposed in January, weeks after Netanyahu's ultranationalist coalition, the most far-right government in Israeli history, was sworn in. The plan has increasingly divided the Israeli community and given momentum to weekly protests every Saturday.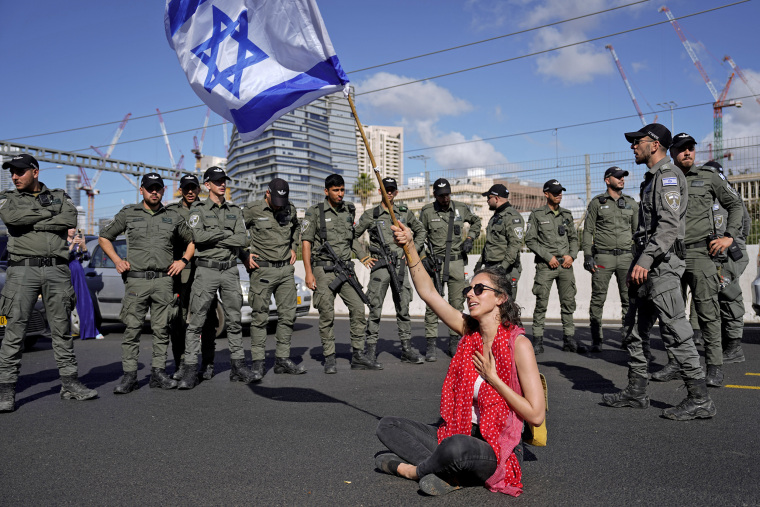 The debate stems from fears that the changes would weaken the Supreme Court, limit judges' powers and threaten democratic institutions. 
Netanyahu — who is on trial on graft charges — and his allies say the reforms will rein in an unelected judiciary and restore balance between the branches of government.
Critics say the overhaul will upset the country's delicate system of checks and balances and slide Israel toward authoritarianism. They also say that Netanyahu is driven by personal grievances and that he could find an escape route from the corruption charges through the overhaul. Netanyahu denies wrongdoing, and says the legal changes have nothing to do with his trial.
Source link