A device containing radioactive material is missing in the Houston area, and authorities said Saturday they want to find it before someone is harmed.
The radiographic camera contains radioactive material "sealed within multiple layers of protection," thus it's unlikely to pose much of a threat unless it's comprehensively dismantled, state health services officials said.
"It does have a radioactive symbol on the side of it, but if somebody were to get into the part of the capsule where the radioactive material is, it's extremely hazardous, like losing fingers," said Lara Anton, spokesperson for the Texas Department of State Health Services.
She added, "Our goal is for people to let us know if they see it, so that we can take back possession of it."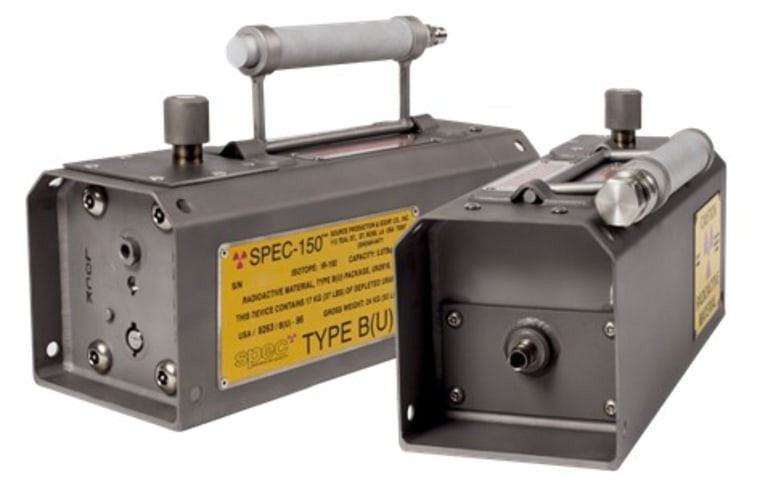 The device, a kind of portable X-ray machine used to see hidden structures, is common in the construction and oil industries. It went missing Thursday from a truck parked at a restaurant where workers went to buy lunch, Anton said.
A search for radioactive sources within a 5 mile radius of the restaurant, just north of the city line, was unsuccessful, she said.
"We've obviously already contacted pawnshops, because when it does happen and somebody tries to pawn it, pawn shops and are on the lookout for it — and scrap metal places," Anton said.
The 53-pound device belongs to Statewide Maintenance Company, according to a statement from the department.
The health services department in the past described a similar device as safe if undisturbed. "The entire camera is stored in a locked half-inch-thick steel overpack box with radiation markings. Levels of radiation outside the camera, itself, are not dangerous," it said in 2020.
In spring that year, a radiographic camera was found intact in the community of Stonewall after it washed away in flood waters on board a contractor's pickup, health services officials said at the time, according to NBC affiliate KXAN of San Antonio.
Health experts believed no radiation had been released. 
In February, a small, highly radioactive capsule that fell off a truck in the Australian outback was found at the side of a road after authorities scanned an area almost the size of California.
Source link