An 'endless onslaught'
Just as one episode of heavy rains across the state began to wind down, another low-pressure system rapidly gained strength off the West Coast, barreling toward the state, according to the National Weather Service.
"The endless onslaught of potent systems with atmospheric rivers of moisture continue to inundate California," it said.
Moderate to heavy rains were expected across much of California through Tuesday and into the night, while several more feet of snow were expected to accumulate along the Sierra Nevada, it said. The heavy rains are expected to worsen the ongoing flooding and prolong the risk of flash flooding and mudslides across the state.
Officials issued immediate evacuation orders Monday for the entire community of Montecito, which is home to a number of celebrities including Prince Harry and his wife, Meghan, as well as for parts of Santa Barbara and other nearby towns amid heightened flood and mudslide hazards.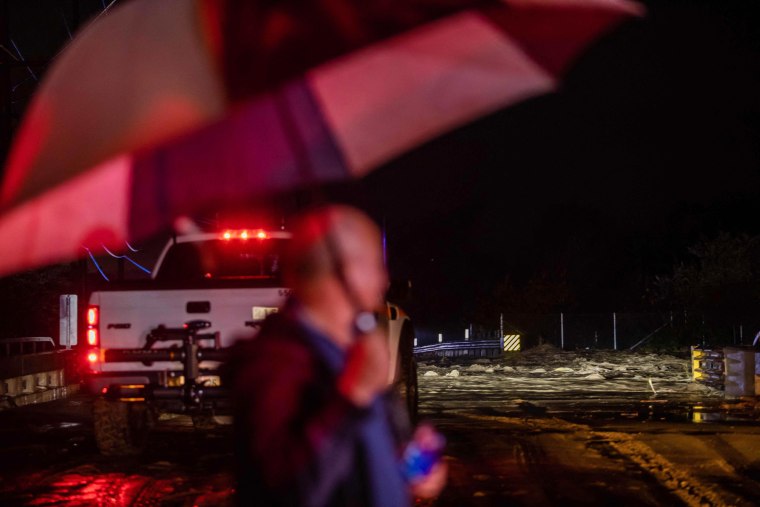 In Montecito, the order was issued "based on the continuing high rate of rainfall with no indication that that is going to change before nightfall," Santa Barbara County Sheriff Bill Brown said Monday afternoon.
Heavy rainfall in the area, which is home to 10,000 people, had already flooded roads and creeks, he said.
The flooding came five years to the day after heavy rains hammered a Montecito "burn scar," killing nearly two dozen people.
The severe weather also forced the Santa Barbara Airport to close due to flooding, the airport announced in a tweet Monday.
"All commercial flights are canceled until further notice, and the terminal is closed," it said. The airport said its reopening would be "dependent on the weather and conditions."
In Chatsworth, a suburban neighborhood in Los Angeles, four people were trapped after two cars were swallowed by a sinkhole that left an entire road "compromised" Monday night, the Los Angeles Fire Department said.
Two people were able to get themselves out of the sinkhole, while firefighters were able to safely extricate the other two, who were treated and taken to a hospital with minor injuries, it said.