A United Airlines flight was grounded for hours in Vermont after a note threatening a bomb was reportedly found in a plane lavatory shortly before landing Sunday afternoon, officials said. 
The threat was reported on board flight 3613, which departed from Newark, New Jersey, and was scheduled to land at Burlington International Airport in Vermont at 4:30 p.m., according to FlightAware data.
About 20 minutes before landing, the flight's crew notified air traffic control about "a threat to the aircraft," Nic Longo, the director of aviation at Burlington International Airport, said in a news conference.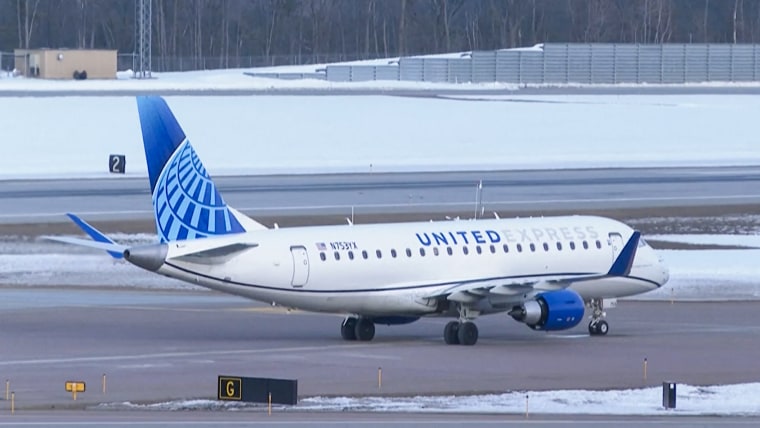 Although officials did not disclose the nature of the threat, the pilot reportedly called in about a threatening note found in a lavatory.
"A flight attendant just came up and said that a passenger found a note … that said there was a bomb on board," the pilot of the flight said in audio obtained by NBC affiliate WPTZ, which serves the Burlington area. 
Air traffic control initiated emergency response protocol. The plane landed and was directed to a "specific location" and law enforcement "assessed the situation," Longo said. 
The Vermont State Police said Sunday their bomb squad was activated to aid local authorities.
Law enforcement ultimately determined that nothing unusual or suspicious was found, and the 65 passengers deplaned and were briefed on the situation just after 7 p.m., officials said. 
They were brought to the terminal to retrieve their belongings. Longo said no injuries were reported. 
The airport was closed during the incident and was reopened for all air traffic at 7:30 p.m., Longo said.
A slew of agencies responded to the incident including the Vermont State Police, FBI, the South Burlington Police Department, and the Federal Aviation Administration.
When asked about what the threat was, Burlington Police Chief Jon Murad did not disclose the matter but said it was under investigation.
"This investigation is ongoing and at this time there is no reason to believe this is anything but an isolated incident," Longo said. 
United Airlines referred comment to Republic Airways, which operated the flight.
Republic Airways said in a statement that just prior to landing, the flight crew "became aware of a possible security concern."
"Out of an abundance of caution, the aircraft taxied to a remote location in Burlington and a precautionary security sweep of the aircraft was performed with no findings," the statement said.
"We offer our sincere thanks to local first responders for their quick and professional response and to all aboard for their patience and understanding," the statement concluded.