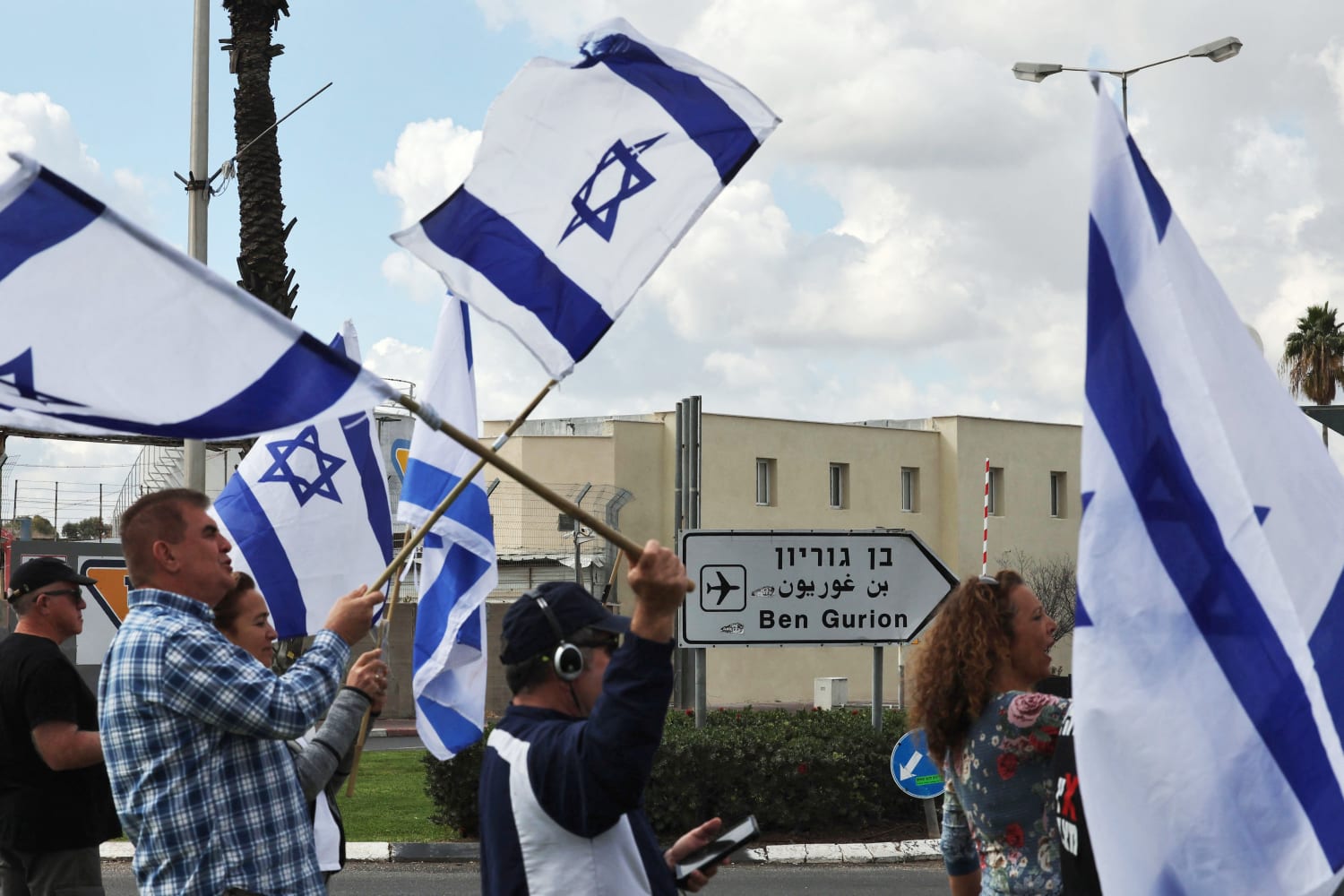 Critics also say Netanyahu, who is on trial for corruption, is driven by personal grievances and that he could find an escape route from the charges through the overhaul. Netanyahu denies wrongdoing, and says the legal changes have nothing to do with his trial.
Demonstrations were underway across the country as Netanyahu and his allies have pledged to press ahead with a series of bills that would strip the Supreme Court of its ability to review legislation and give coalition politicians control over judicial appointments. An attempt by Israel's ceremonial president to defuse the crisis through an alternative legal reform has so far been unsuccessful.
"Israel is on the verge of becoming an autocratic country. The current government is trying to destroy our democracy, and actually destroy the country," said Savion Or, a protester in Tel Aviv.
The protesters main objective Thursday was to complicate Netanyahu's journey to the airport ahead of a state visit to Rome. Police, handing out traffic tickets as protesters held signs reading, "dictator: don't come back!" said they would clear the demonstrators by force if they did not move.
Israel's public broadcaster Kan reported Netanyahu would fly by helicopter to the airport, circumventing the protesters. Netanyahu's office declined to comment. An air force Blackhawk helicopter idling at a Jerusalem helipad that was reportedly set to take Netanyahu to the airport appeared to be a diversion and took off with no passengers.
Regular passenger flights were not interrupted, an airport spokeswoman said, although some travelers said they had to leave their cars beyond the protesters' convoy and reach the terminal by foot.
"The protests show how solid our democracy is," Netanyahu told the Italian daily La Repubblica ahead of his trip. "A reform is necessary. The judiciary must be independent, not omnipotent."
The police, overseen by ultranationalist National Security Minister Itamar Ben-Gvir, have pledged to prevent the disturbances and said they had already made arrests as the protests were underway. Police on horseback were stationed in central Tel Aviv where protesters were marching and a water canon truck was parked nearby. Red billboards festooning the city's main highway read "resistance to dictatorship is mandatory."
Source link