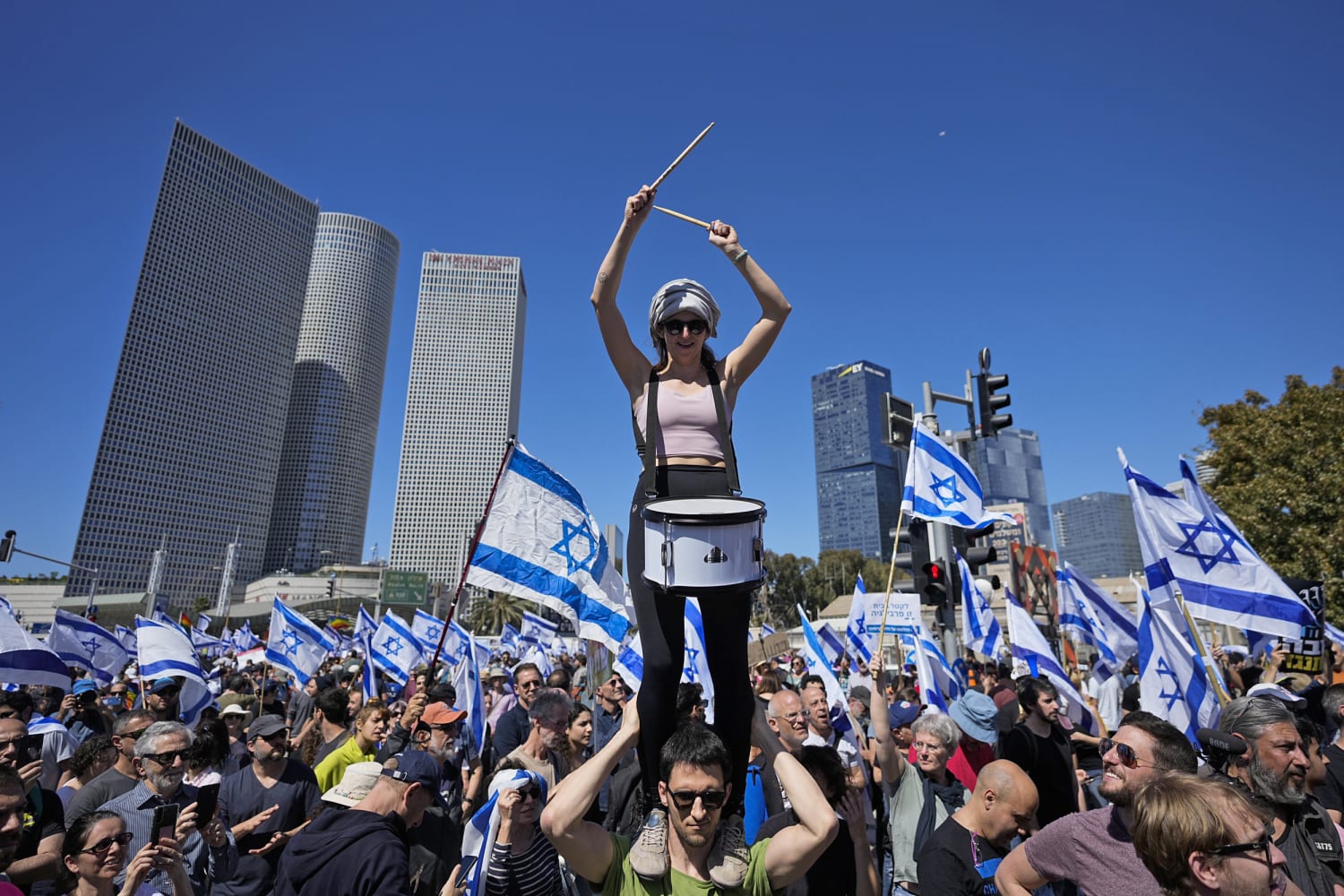 So far, there are no indications the Biden administration intends any substantive shift in its relationship with Israel's government, beyond more frequent public calls for de-escalation in the West Bank and gentle reminders about the importance of democratic institutions.
Even if the U.S. did opt for a change in policy, it's unclear whether it could force Israel to change course.
A former senior Israeli government official said the emergence of a major threat to the country's democracy was a "big dilemma" for its closest ally. But the official said any U.S. efforts to condition elements of the relationship would likely be fruitless because Netanyahu, under the delicate coalition he formed with far-right parties to secure a return to power, is now beholden to them.
"It's quite pointless at this moment," the former official said, speaking on condition of anonymity to criticize the current prime minister. "His own members of his coalition are escalating the situation. He's not managing to control the members of the coalition."
Any U.S. move to reduce or leverage support for Israel would undoubtedly trigger fierce blowback from nearly all Republicans and many Democrats, not to mention Orthodox Jewish and evangelical groups in the U.S. that have been more supportive of Netanyahu's approach.
The U.S. could seek to impose conditions on the billions of dollars of annual assistance to Israel, most of it military. Yet conditioning aid to Israel has generally been considered a third rail in U.S. foreign policy, and even many lawmakers now speaking out against Israel's rightward shift oppose that step.
U.S. support for — or at least refusal to block — resolutions calling out Israel on the world stage could be one option to signal a shift in policy, as Kurtzer suggested.
For Israel's government, perhaps the most alarming shift so far in response to the proposed judicial reforms has been economic, potentially jeopardizing its status as a Mideast economic powerhouse that punches above its weight.
Last week former New York Mayor Michael Bloomberg, a self-avowed Israel supporter, said some businesspeople were already pulling their money out of the country or reconsidering whether to invest.
"As the owner of a global company, I don't blame them," Bloomberg wrote in a New York Times op-ed under the headline "Israel Is Courting Disaster."
Those concerns have already sent the shekel plummeting to the lowest level in years. U.S. financial services firm JPMorgan, in an internal research memo first disclosed by Israeli media and obtained by NBC News, warned the increased risk stemming from the judicial plan could negatively affect Israel's credit rating.
Another potentially explosive flashpoint is looming over opposition to the judicial plan from elite members of Israel's military, including more than three dozen reservist fighter pilots who've announce they'd boycott a planned training, voicing concern about serving a "dictatorial regime."
Some reservists have raised concerns that, if Israel undermines its democratic institutions, troops could be vulnerable to war crimes or other allegations in global venues like the International Criminal Court. The fact that Israel has an independent court system to appropriately handle such allegations has been a key Israeli defense in the past.
Dan Shapiro, U.S. ambassador to Israel in the Obama administration and now a distinguished fellow at the Atlantic Council, said there could be further challenges for U.S. security cooperation if the situation devolves into a full-blown constitutional crisis, with Israel's parliament and Supreme Court both claiming to have overruled the other.
"If that happens, those in uniform will have to decide whose order to follow. They may not all decide the same way," Shapiro said. "In that scenario, U.S. officers may not know who to coordinate with."
Any dramatic shift from the U.S. remains unlikely under Biden, said the former senior Israeli official, pointing to the 80-year-old president's close friendship with Israel forged over decades as U.S. senator and then vice president. But younger Democratic lawmakers have been much quicker to say U.S. cooperation with Israel isn't guaranteed.
"Few of these kinds of friends of Israel exists anymore," the former official said. "The biggest cause of concern should be the next generation of leaders."
Source link