Hollywood star Leonardo DiCaprio has given evidence in an international money laundering and bribery trial.
Prakazrel "Pras" Michel – a founding member of 1990s hip-hop group The Fugees – is facing trial in Washington DC accused of funnelling money from fugitive Malaysian financier Low Taek Jho.
It is alleged Michel essentially became a conduit for Low's millions and his attempts to influence the US government by making donations to Barack Obama's 2012 re-election campaign.
Five years later, prosecutors say Michel tried to halt an investigation into the financier under Donald Trump's administration.
The rapper, who won two Grammy Awards for The Fugees' 1996 album The Score, denies all 11 criminal counts.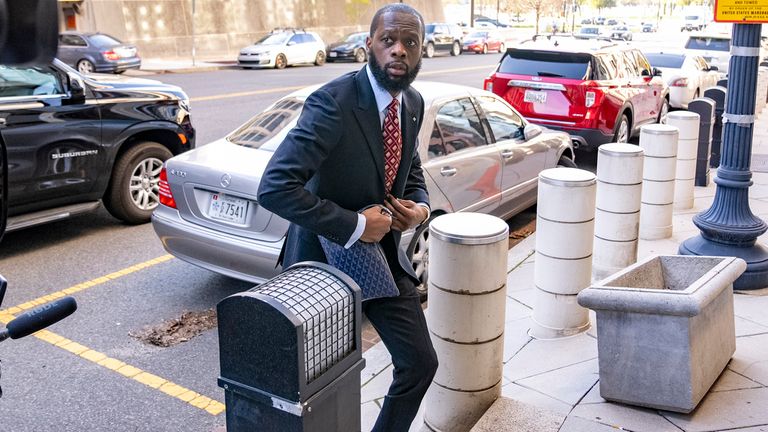 DiCaprio's connection with the case stems from his years-long relationship with Low, who was a primary financier on DiCaprio's 2013 film The Wolf Of Wall Street.
The 48-year-old actor said he had known Michel since the 1990s, when they met backstage after a Fugees concert.
Low is accused of masterminding an international money laundering and bribery scheme that stole billions from the Malaysian state investment fund known as 1MDB.
Answering questions calmly from the witness box, DiCaprio said he befriended Low at a Las Vegas birthday party in 2010 and "understood him to be a huge businessman with many different connections in Abu Dhabi and Malaysia".
Low became a regular contributor to DiCaprio's charitable foundation, but the Oscar-winning actor maintained that Low's funding and legitimacy was carefully vetted before entering into a business relationship.
"I was given the green light by my team as well as my studio," DiCaprio said. "He was a legitimate business person wanting to invest in the movie."
Read more:
Donald Trump flies to New York to face criminal charges
NASA names Artemis II crew for trip around the moon
Chinese 'spy balloon' gathered US intelligence from sensitive military sites
DiCaprio also recalled a "casual conversation" with Low in which the financier said he intended to make a large contribution to Mr Obama's re-election campaign.
"It was a significant sum – something to the tune of 20-30 million dollars," he told the hearing. "I said: 'Wow, that's a lot of money!'"
Prosecutors allege that from June to November 2012, Low directed more than $21.6m (£17.4m) to be moved from foreign entities to Michel's accounts to funnel money into the 2012 presidential election.
The indictment against Michel said he paid about 20 straw donors – individuals who illegally use another person's money to make a political contribution in their own name – so they could make conceal where the money came from.
Michel's lawyers are expected to argue that he did not know he was acting as a foreign agent.
The trial continues.
Source link