Hollywood stars Paul Mescal and Jodie Comer have won the night's biggest trophies at the Olivier Awards, while a stage adaptation of a beloved animated Japanese classic swept the board.
Mescal won best actor in a play for his role in the revival of the Tennessee Williams classic A Streetcar Named Desire, while Jodie Comer was recognised for her performance in the explosive one-woman show about sexual assault, Prima Facie.
Speaking backstage at the awards, which were held at the Royal Albert Hall, Comer told Sky News: "Women sharing their stories with each other online, to us as a production… some people have felt courage enough to tell family members or friends what they experienced.
"To be a part of that conversation – I feel like this is how I can contribute."
Mescal, who was also nominated for an Oscar this year, told Sky News: "It's one of the greatest honours in my life… theatre is so important and will continue to be. It's just something that I will cherish the rest of my life."
The Royal Shakespeare Company's stage adaptation of the Studio Ghibli 1988 film My Neighbour Totoro won six of the night's awards, including best entertainment play, and best director – making it the night's most successful production.
Elsewhere, Sir Derek Jacobi was given the lifetime achievement award and Dame Arlene Phillips – choreographer and former Strictly Come Dancing judge – was handed the Special Award.
Musical theatre mainstay Beverley Knight also won an award for her role in the musical Sylvia at The Old Vic.
Anjana Vasan, Hey Duggee, Rodgers & Hammerstein's Oklahoma! and Will Keen were among the other major winners, while Standing At The Sky's Edge scored the coveted best new musical trophy – beating a superstar collaboration between Elton John, James Graham and Jake Shears.
Ted Lasso star Hannah Waddingham was the evening's host, a musical theatre performer herself. She will also present Eurovision in May.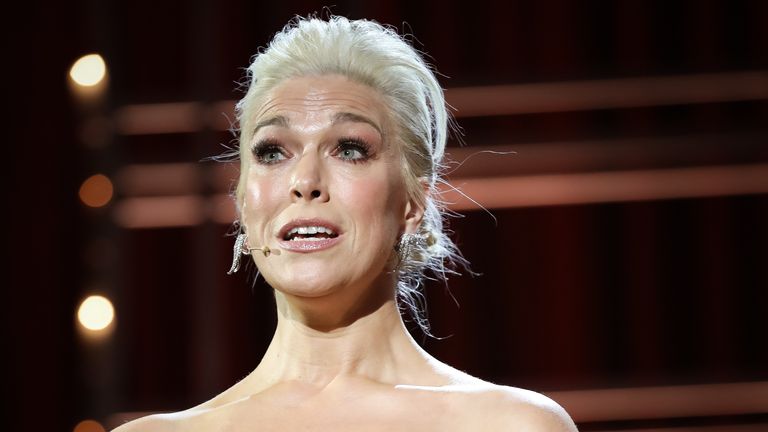 Mescal, Izzard, Knight and Self Esteem call out cuts
But while the awards celebrated the best in British theatre, it was amid a backdrop of Arts Council funding cuts across the sector.
Talking about the cuts that have seen theatres – including Oldham Coliseum, English National Opera and The Donmar Warehouse – lose funding this year, Mescal told Sky News: "The Almeida where we started with this play took a pay cut this year, and it's been celebrated year after year [at The Oliviers] and something just doesn't add up to me where you're celebrating us on these stages, but you're not giving us the stage to perform, and it's the same in Ireland."
Read more on theatre:
Maxine Peake's fight to save theatre 'reaching natural end'
English National Opera faces funding cut head on
Theatre staff 'fearing for safety' after rise in audience anti-social behaviour
Beverley Knight also delivered an impassioned defence of the arts, telling Sky News: "The first port of call is for our government to understand the job of theatre and what we do and what we represent – being at the vanguard of creativity in this country, pulling in billions every year.
"We're storytellers, we are explaining the human condition to fellow humans. We have a really important role to play.
"And in so doing, the government needs to respect it, because it will never ever give the funding to theatre… until they respect it – and in my humble opinion, I don't think they do."
Also speaking on the show's green carpet, actress and Labour activist Eddie Izzard added: "[The government] want us to have a very odd view of creative people… they choose their levelling up by what seats they want to win.
"We have people who have done amazing creative things, from painting, to acting, to rock n roll, to comedy, and that must keep going."
Self Esteem, who composed the soundtrack to Prima Facie, which also picked up best new play, said: "It's so vital for art, whatever form it is in, to not bypass people that aren't privileged to start off with, otherwise you're just going to get this horrible one world view.
"The less that's prioritised, the worse the arts gets."
Source link