Every single past Oscar nominee for Best Picture would still qualify under new diversity rules being introduced by the Academy Awards next year, according to its President, Janet Yang.
Speaking exclusively to Sky News ahead of Sunday's Oscars ceremony, when asked whether a film like All Quiet On The Western Front – top-heavy with white male stars – would still be eligible under the Academy's new criteria (which kicks in in 2024) Yang confirmed: "We did find that, given these new guidelines all the past nominations would still qualify."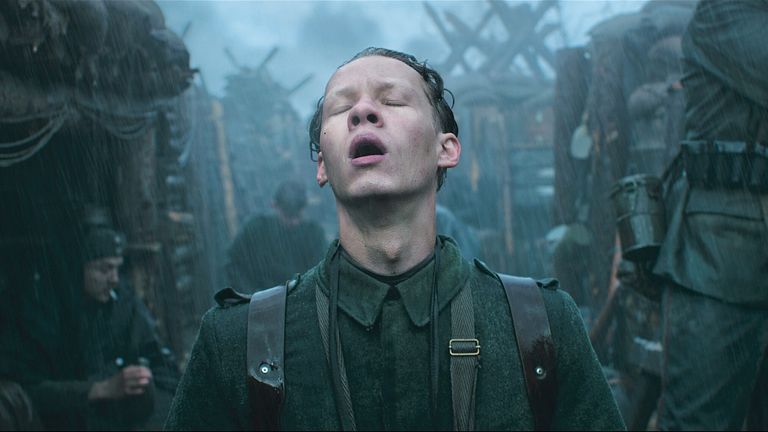 Explaining how the changes are more about encouraging studios to be more accountable, Yang clarified: "It is almost a way for people to feel a bit more conscious about those things."
Following the #OscarsSoWhite controversy which exploded in 2015, the pressure has been on the Academy to lead the way on improving representation in the industry.
Its historically overwhelmingly old, white male voting membership has been increased dramatically to around 9,500 voting members this year.
Additionally, the Academy's new diversity rules will force studios to satisfy two of four criteria for their films to be eligible for Best Picture from 2024 – things like ensuring a third of the cast is from "an underrepresented group" or that 30% of crew are from diverse racial or ethnic groups.
The move has been widely heralded as progress, but as Yang told Sky News, regulation is a complicated process.
Read more:
The Goonies star Martha Plimpton on the 80s, Oscars and playing a criminal mama
What is the new Oscars crisis team and what do they do?
"It's finding the right balance. So, we want rules that make sense, that keep people kind of on your toes about it, but not telling people what to make," the film producer and Academy President explained.
While Asian actors have received a historic high of four nominations this year, there are zero women up for Best Director and only two black actors nominated in the acting categories.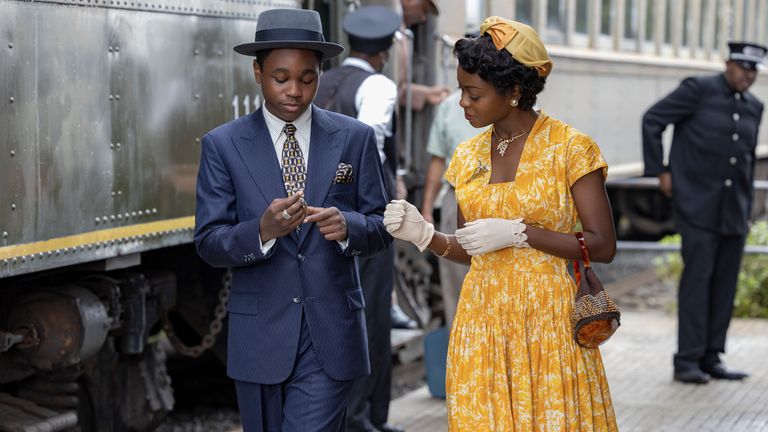 Eyebrows were raised when nominations were announced last month, revealing that the Academy seemingly overlooked critically acclaimed performances from both Danielle Deadwyler in Till and Viola Davis in The Woman King.
Viola Davis, speaking at the BAFTAs, told Sky News: "As artists, and there were a lot of female artists and artists of colour working on our film, we want to be acknowledged for our skill, for our excellence, for our craft. These are people that have been working for years, decades, doing what we do, and not getting noticed."
For the female director behind The Woman King, Gina Prince Bythewood – absent from this year's all-male Director category line-up – something needs to give.
"It's been tough for women to have our work valued in the same way… it's not just about me but about a systemic issue that's been there," Bythewood told Sky News.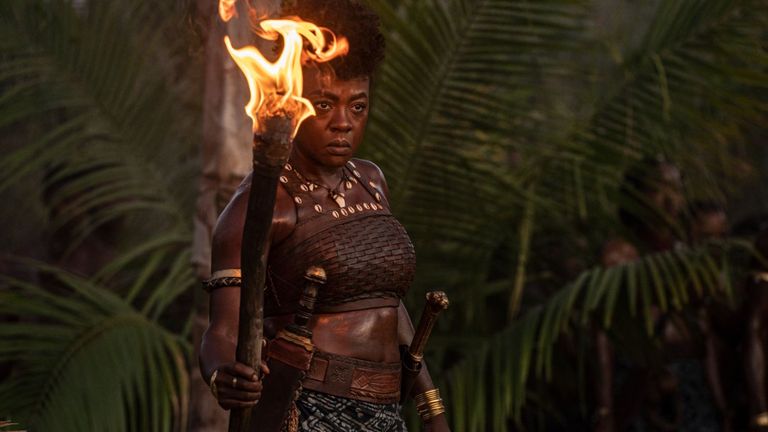 And Viola Davis' co-star John Boyega told Sky News it's about the best work getting plaudits: "It shouldn't just be about no one's heritage or skin colour but the work also speaks for itself which definitely raises some legit genuine questions."
Read more:
Meet the woman who taught Austin Butler to move like Elvis
'Terrifying': What it feels like to be nominated for an Oscar
According to Sky News' own analysis of Oscar winners, you can see there are more winners from different ethnic backgrounds in recent years and according to new research from USC Annenberg Inclusion List and the Adobe Foundation, 8% of nominees were from an underrepresented racial or ethnic group between 2008 and 2015 (pre #OscarsSoWhite), but between 2016 and 2023 (post #OscarsSoWhite) that figure increased to 17%.
Even for women nominees, the percentage increased from 21% to 27% in the same time frame.
Click to subscribe to Backstage wherever you get your podcasts
It would suggest the #OscarsSoWhite campaign has had an impact, but progress it seems is slow, and seemingly complicated to regulate.
You can watch the Oscars Live from the Red Carpet show from 11pm this Sunday exclusively on Sky News and Sky Showcase, followed by the Academy Awards Ceremony from midnight this Sunday.
And you follow all the action from Hollywood on our live blog right here on Sky News, and download our Backstage Podcast Oscars Special for all the details on the nominees and winners from Monday morning.
Source link