WestJet cancels all flights from Toronto Pearson International Airport
WestJet has canceled all flights in and out of Toronto Pearson International Airport Friday because of "a significant winter storm system."
No flights will take off from 9 a.m. until the end of the day "with a restart dependent on weather conditions by Saturday," the airline said in a statement.
Diederik Pen, WestJet's Chief Operations Officer apologized for the disruption in a statement. "Our teams on the ground, in the air and behind the scenes are working tirelessly to recover our operations, while trying to limit further disruption to important holiday travel plans," he said.
Southeast to face wind chills of 5 or 0 degrees
The city of Charleston, South Carolina, was among those opening warming centers as the southeastern U.S. braced for wind chill values as low as 0 degrees.
A swath of the South and the Southeast, including Georgia and the Carolinas, will be under wind chill advisories starting Friday.
In Charleston, warming centers have been opened for people to get out of the cold.
On Saturday, the temperatures are expected to approach an all-time low for Dec. 24 that was set in 1989, when the city's airport recorded 16 degrees, said Douglas Berry, a meteorologist at the National Weather Service in Charleston.
More than 1,200 Friday flights scrubbed
More than 1,250 flights scheduled for Friday have been canceled in Midwestern or East Coast states amid a major winter, according to a flight-tracking site.
Some airports have already been battered by the storm, such as Chicago, and flights in other parts of the country have been canceled ahead of the anticipated cold temperatures and high winds.
More than 430 flights to or from Chicago's O'Hare and Midway airports scheduled for Friday have been canceled, according to the website FlightAware.com.
LaGuardia Airport in New York City had a combined 308, Detroit Metropolitan Wayne County Airport had 293, and Boston Logan International Airport had 207, according to the site.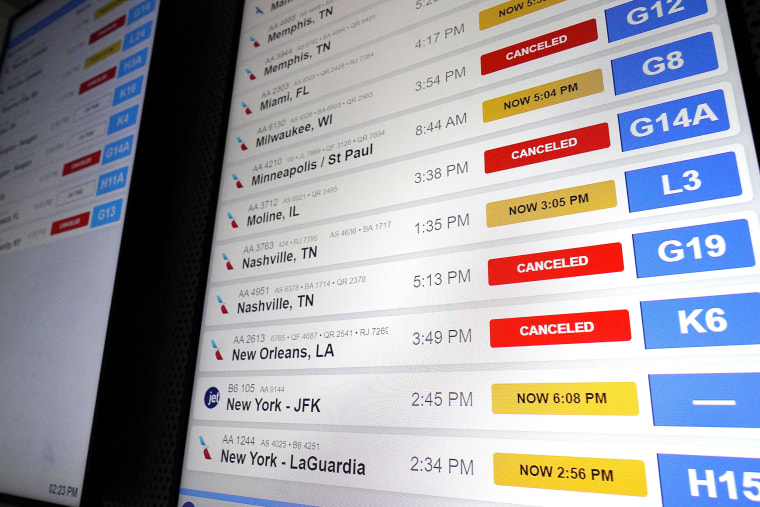 Source link