MIAMI — A day after supporters of former President Jair Bolsonaro stormed government buildings in Brazil, Vitor Spier, who lives in Orlando, Florida, condemned the violence in his home country.
But Spier, a Bolsonaro supporter who believes Brazil's recent election was fraudulent, said he was "expecting" some response from the former president's supporters.
"We don't believe he won by the will of the people," Spier said, referring to new President Luiz Inácio Lula da Silva, also known as Lula.
Spier's view echoes what Bolsonaro and many of his allies have said since losing the contentious Oct. 30 presidential runoff, claiming voter fraud and rigged elections.
The expectation of violence in their home country was shared by Brazilian Americans who oppose Bolsonaro.
"This is not a surprise to anyone," said Alinio Azevedo, a Brazilian who lives in Aspen, Colorado. "Bolsonaro has been talking about this for months. … It was totally avoidable."
Now, Bolsonaro is in Orlando, where he has supporters among the state's growing number of Brazilian Americans. Florida is home to a large number of Latin American expats, including many who support center-right politics and have gravitated to the Republican party — which has cultivated this growing voting bloc.
Florida is a permissive environment, particularly for the former president, said Eric Farnsworth a vice president at the Council of the Americas and Americas Society. "It's a very common location where Latin Americans are generally welcomed and feel comfortable."
Bolsonaro was recently hospitalized in the Orlando area, according to a statement from his wife on Instagram.
His supporters had been gathering outside the home of retired Brazilian MMA fighter Jose Aldo, where Bolsonaro is believed to be staying, to express their support.
In a video posted to YouTube, Orlando realtor Ricardo Molina filmed what appeared to be the former president walking out of the home to greet supporters prior to Lula's inauguration. Molina did not respond to a request for comment, and NBC News has not verified Bolsonaro's whereabouts.
Longstanding ties to Trump, allies
After the angry mob of Bolsonaro supporters stormed the presidential palace, Congress and Supreme Court, many are drawing parallels between what unfolded in Brazil and the 2021 Capitol riots in the U.S. Many are honing in on the longstanding relationship between Bolsonaro and his family and former President Donald Trump as well as his former chief strategist, Steve Bannon.
After Bolsonaro's loss, unfounded claims of election fraud, reminiscent of those in the U.S., began to surface in Brazil.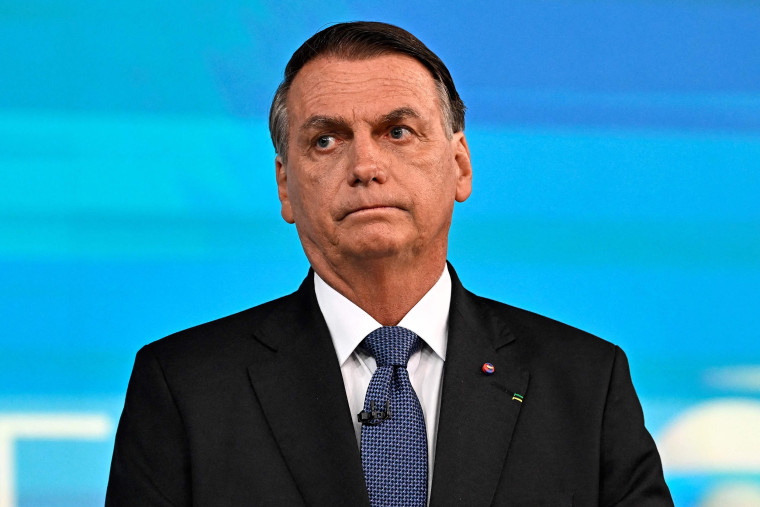 Following the riot Sunday, Bannon shared a video on the alt-right social media platform Gettr that showed protesters pouring into the congressional building and called them "Brazilian freedom fighters."
Bannon also falsely posted "Lula stole the Election" repeatedly.
Bannon had said prior to the Brazilian election that Bolsonaro would lose only if "the machines" steal the election. 
Eduardo Bolsonaro, the former president's son who is also a congressman, has met with Trump and Bannon numerous times since his father took office in 2019.
Leading to the presidential elections in Brazil, Trump allies exported many of the former president's campaign strategies to the Latin American country.
At a Conservative Political Action Coalition (CPAC) conference in Brazil in 2021, guests included Donald Trump Jr. and Rep. Mark Green, R-TN, who voted against certifying the 2020 election results. Speakers attacked the press and branded rivals as criminals and communists. 
Eduardo Bolsonaro gave a presentation on election fraud in Sioux Falls, South Dakota, in August 2021, at an event hosted by Mike Lindell, the pillow executive and one of the leading voices on Trump's false claims that the 2020 presidential election was rigged.
Eduardo Bolsonaro was cheered by Lindell and Bannon as he talked about election fraud, conspiracy theories, and the fake news media.
After Bolsonaro's October loss, tens of thousands of supporters began camping outside military facilities throughout Brazil to protest his loss.
In the meantime, Eduardo Bolsonaro, visited Trump in Mar-a-Lago. He and other members of Bolsonaro's inner circle have consulted with Trump allies to strategize a way forward, using the energy of his father's supporters.
Trump has not responded to the attack on the Brazilian capital.
There were other similarities to the events leading to Jan. 6.
Laura Pereira, a Brazilian researcher focused on social media and the Internet, said protesters primarily used WhatsApp, Telegram and YouTube to organize and fund the uprising.
"Digital media was used to organize and execute the actions, not only to share disinformation," Pereira said. "It's like an ecosystem of information regarding the need to act on Brasília, to [steal] the power, to defend Bolsonaro's agenda and to rebel against democracy."
"Disinformation was a growing part of our election," she said, calling it a "challenge regarding democracy and the Internet in general."
Jan. 6 parallels, but an important distinction
There is one fundamental difference between Brazil's riot and Jan. 6, according to Bruna Santos, a senior adviser at the Brazil Institute at the Woodrow Wilson Center, a Washington D.C. think tank.
"The primary one is the timing; the Capitol attack had the definite goal of obstructing Joe Biden's swearing-in to impede his victory from becoming a foregone conclusion," said Santos. In Brazil, by contrast, all time limits (declaration of results, swearing-in, inauguration) had passed before the rioting took place.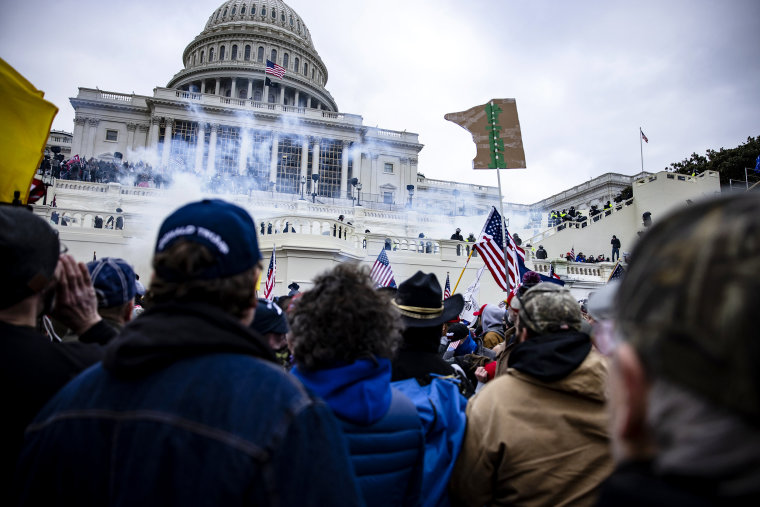 "It implies that the possibility of a coup succeeding at this moment is far more remote," Santos said, "as the quick reaction from the global community demonstrates."
For Farnsworth, the riot's timing showed it wasn't about getting Bolsonaro back to Brazil. "I don't think Bolsonaro has any interest in doing that. That's why he left to Florida," he said.
"They're more interested in simply not allowing Lula to take power. … And if that's the case, then we have real trouble," said Farnsworth about the implications for the new president.
Approximately 1,500 protesters have been detained since Sunday, and it's considered the worst attack on the country's democracy in almost 40 years.
Those who predicted the violence say police should have done more to prevent it. Brazil's Supreme Court ruled Sunday that Ibaneis Rocha, governor of the Federal District home to the capital, be suspended following the violence.
"Everybody knew this was a possibility. Why didn't the police department from the [Federal District] do anything to stop it?" Azevedo said. "There is open chat on social media of them getting together to do that."
Source link