Russian President Vladimir Putin is betting that Russian forces can prevail in Ukraine through a grinding war of attrition and believes "Ukraine matters more to him than us," CIA Director William Burns told lawmakers on Thursday. 
Despite morale and other problems facing Russian forces in Ukraine, "Putin is very much taking a longer-term view," Burns told a House Intelligence Committee hearing. 
"I think he's doubling down," Burns said. "I believe he's convinced that he can make time work for him, that he can grind down the Ukrainians through this war of attrition, that he can wear down Western supporters of Ukraine. 
"And he's convinced also and has been for some time that Ukraine matters more to him than to us," said the CIA chief, a former U.S. ambassador to Russia.
"Therefore, the challenge, I think, is to puncture that view."
In its annual report on global threats, the Office of the Director of National Intelligence wrote that Russia likely would not be able to make major territorial gains in Ukraine this year, and would be hard-pressed to take the entire Donbas region in the country's east.
"The Russian military has and will continue to face issues of attrition, personnel shortages, and morale challenges that have left its forces vulnerable to Ukrainian counterattacks," the report said. 
On China, Burns said Beijing had not made a decision on whether to take military action to seize control of Taiwan, but said he would not "underestimate the ambition of the current Chinese leadership in that regard or the determination."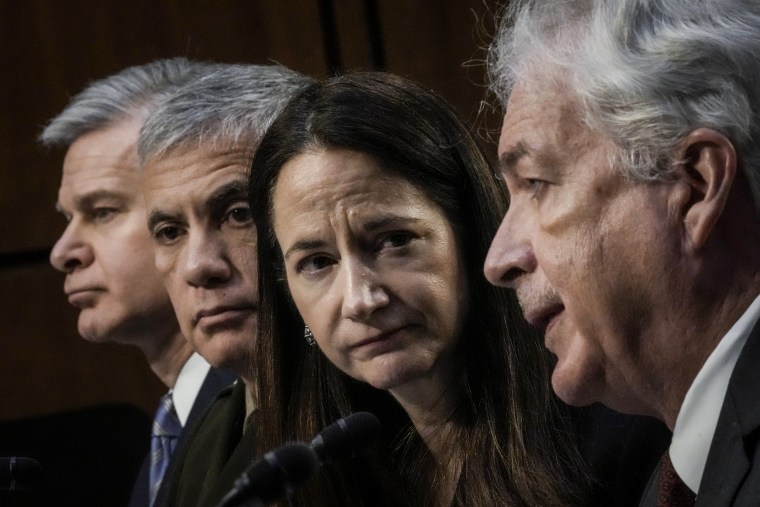 Director of National Intelligence Avril Haines said at the same hearing that a war over Taiwan would have a massive impact on the global economy and the supply of semiconductors, and that the Treasury, Commerce and other U.S. government departments have examined the potential effect.
"Studies show that it would actually have absolutely enormous implications for the global financial economy if there were disruption to Taiwan's semiconductor production because really . . . Taiwan, the semiconductors, the chips that come out of Taiwan, are present in virtually every category of electronic devices around the world," Haines said.
Burns also suggested China likely would have to weigh the economic impact if it chose to arm Russia, as it could deprive it of access to the European market.
"It's been important that European leaders have spoken up on this issue as well, because I think for a long time that the Chinese leadership has assumed that it could drive wedges between the United States and our European allies on an issue like this," Burns said. "I think the fact that several prominent European leaders have spoken out directly about this is a very important step."
German Chancellor Olaf Scholz has warned China not to send weapons to Russia. 
Victoria Ebner contributed.
Source link