Xi Jinping and Vladimir Putin emerged from two days of talks on Tuesday with warm words of friendship between China and Russia and joint criticism of the West but no sign of a diplomatic breakthrough over Ukraine.
Xi's visit to Moscow — long touted by the Kremlin as a show of support from its most powerful friend — featured plenty of demonstrative bonhomie. The two leaders referred to each other as dear friends, promised economic cooperation and described their countries' relations as the best they have ever been.
A joint statement included familiar accusations against the West — that Washington was undermining global stability and NATO barging into the Asia-Pacific region.
On Ukraine, Putin praised Xi for a peace plan he proposed last month and blamed Kyiv and the West for rejecting it.
"We believe that many of the provisions of the peace plan put forward by China are consonant with Russian approaches and can be taken as the basis for a peaceful settlement when they are ready for that in the West and in Kyiv. However, so far we see no such readiness from their side," Putin said.
But Xi barely mentioned the conflict at all, saying that China had an "impartial position" on it.
The summit, Putin's biggest display of diplomacy since he ordered his invasion of Ukraine a year ago, was partly upstaged in Kyiv, where Japan's Prime Minister Fumio Kishida made a surprise visit and met President Volodymyr Zelenskyy.
The latest world leader to make the grueling overland journey to show solidarity with Ukraine, Kishida toured Bucha on the capital's outskirts, left littered with dead last year by fleeing Russian troops. He lay a wreath by a church before observing a moment of silence and bowing.
"The world was astonished to see innocent civilians in Bucha killed one year ago. I really feel great anger at the atrocity upon visiting that very place here," Kishida said. "Japan will keep aiding Ukraine with the greatest effort to regain peace."
Washington denounced the timing of Xi's visit to Moscow, just three days after the International Criminal Court in the Hague issued a warrant for Putin's arrest on war crime charges of illegally deporting Ukrainian children.
U.S. Secretary of State Antony Blinken said visiting at such a time amounted to giving Putin "diplomatic cover" for atrocities. Moscow denies illegally deporting children, saying it has taken in orphans to protect them, and has opened its own criminal case into the ICC prosecutor and judges.
Putin and Xi signed a "no limits" partnership agreement last year just weeks before Russia invaded Ukraine. Beijing has since declined to blame Moscow for the war and criticized the West for imposing sanctions on Russia, even as China has profited by securing a deep discount for purchases of oil and gas that Russia can no longer export to Europe.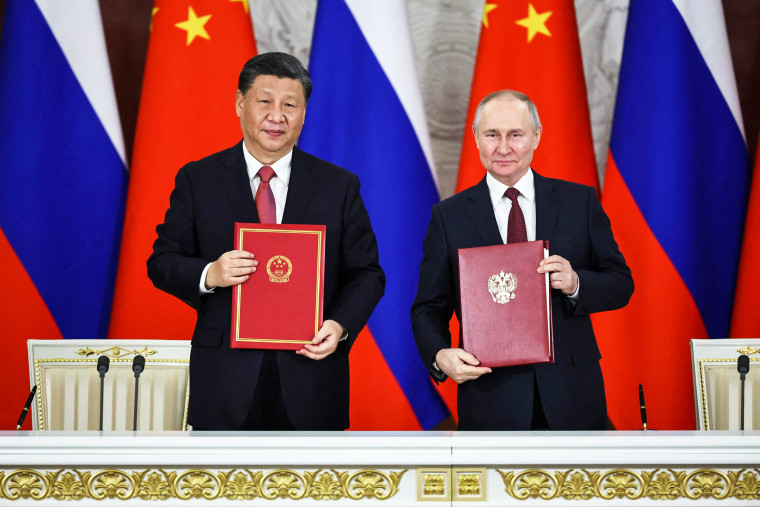 The West has largely dismissed Xi's peace plan for Ukraine as at best too vague to make a difference, and at worst a ploy to buy time for Putin to rebuild his forces and tighten his grip on occupied land.
But Kyiv, perhaps hoping to keep China neutral, has been more circumspect, cautiously welcoming the plan when China unveiled it last month. Zelenskyy has repeatedly called on Xi to speak to him.
Ukrainian officials hinted that a phone call could be in the works: "We are waiting for confirmation," Ukraine's Deputy Prime Minister Iryna Vereshchuk told Italian newspaper Corriere della Sera. "That would be an important move. They have things to say to each other."
Kyiv says firmly there can be no peace talks with Russia unless it withdraws its troops. Moscow says Kyiv must accept territorial "realities" — a reference to its claim to have annexed nearly a fifth of Ukraine.
Washington has said over the past month that it is worried that Beijing could arm Russia, which China denies.
On the ground, Ukraine's Defence Ministry said an explosion in Dzhankoi city in Crimea overnight destroyed Russian Kalibr-KN cruise missiles as they were being transported by rail for use by Russia's Black Sea Fleet to attack Ukraine.
Russian-installed officials in Crimea, controlled by Moscow since 2014, said the blast was caused by drones laced with shrapnel and explosives, and targeted civilian sites. One person was injured, they said.
Kyiv never discusses responsibility for attacks in Crimea. Dzhankoi is Crimea's main railway hub, linking routes to Russia proper with naval bases on the peninsula and Russian-occupied territory in mainland Ukraine.
Mick Ryan, a retired Australian major general and military analyst, said Ukraine apparently being able to hit the cargo "forces the Russians to rethink their force posture and defensive deployments in Crimea and beyond".
"Strikes like this are not war winning silver bullets. But, their impact is cumulative on the degradation of Russian morale and war fighting capability," he tweeted.
Kyiv recaptured swathes of territory in the second half of 2022, but its forces have largely kept to the defensive in recent months. Moscow, meanwhile, has launched a massive winter offensive using hundreds of thousands of freshly called-up reservists and convicts recruited as mercenaries from jail.
Despite the bloodiest fighting of the war, which both sides describe as a meatgrinder, the front line has barely moved for four months.
The one exception has been around the small eastern city of Bakhmut, where Russian forces made gains in January and February. Kyiv has decided this month not to pull its forces out of the city.
In the town of Chasiv Yar, just west of Bakhmut, bursts of incoming and outgoing artillery fire could be heard. Between apartment blocks, mainly elderly residents queued for water and food delivered by a team from the State Emergency Service.
Oleksii Stepanov said he had been in Bakhmut until five days ago but was evacuated when his house was destroyed by a missile.
"We were in the kitchen and the missile came through the roof. The kitchen was all that was left standing," said the 54-year-old.
Source link