An early draft of handwritten lyrics for Bohemian Rhapsody reveals that the Queen hit could have had a different title.
A page of unearthed writing drafts reveals that singer Freddie Mercury toyed with calling the track 'Mongolian Rhapsody' but crossed the Mongolian part out in pencil, replacing it with 'Bohemian' written at the top – which is rhythmically similar.
The drafts, which are expected to sell for up to £1.2m, are written on stationery from the defunct airline British Midland.
They are among a cache of Mercury's belongings that are going on display in Sotheby's in New York until next Thursday, before they are sold in September.
The personal collection had been preserved in Mercury's London home, Garden Lodge.
Dr Gabriel Heaton, Sotheby's Books & Manuscripts Specialist, said: "Early drafts such as these are easily lost or discarded, so the rare survival of these manuscripts provides us with fascinating insights into how his songs were developed and put together, as well as reminding us of their musical complexity and sophistication.
"The revelations in these pages include the extensive redrafting which was part of his song writing process, and his astonishing detailed attention to plans for the vocal harmonies that are such a distinctive feature of Queen's sound."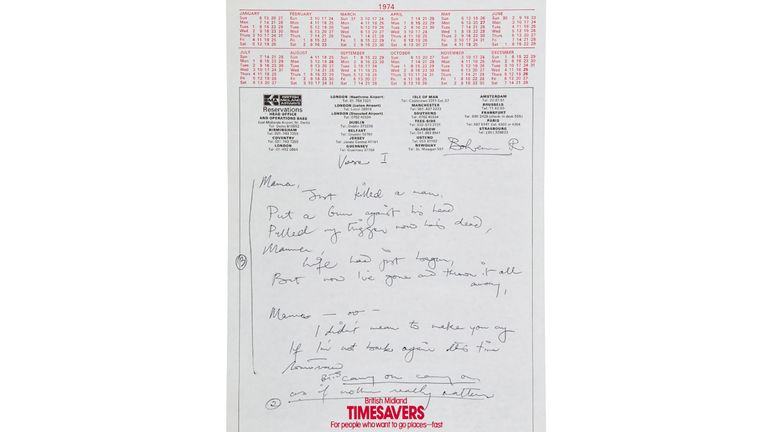 The 1975 hit Bohemian Rhapsody was the lead single from Queen's fourth album, A Night at the Opera, and was the third best-selling UK track of all time.
Speaking about the song previously, Mercury said Bohemian Rhapsody was a "strong song… that was really when the Queen volcano erupted, when it suddenly just went bang!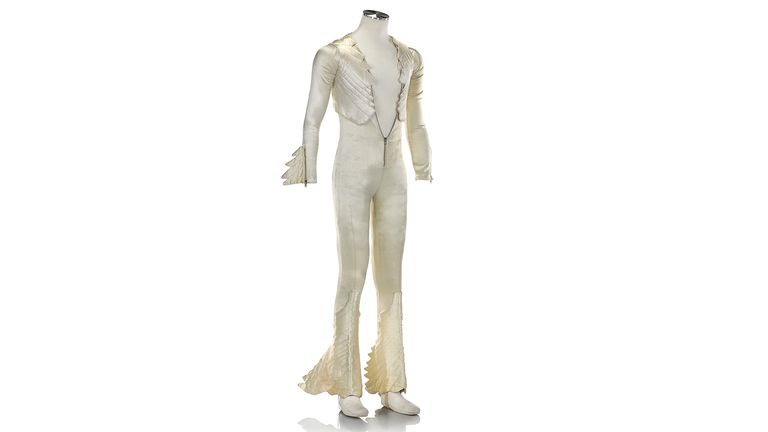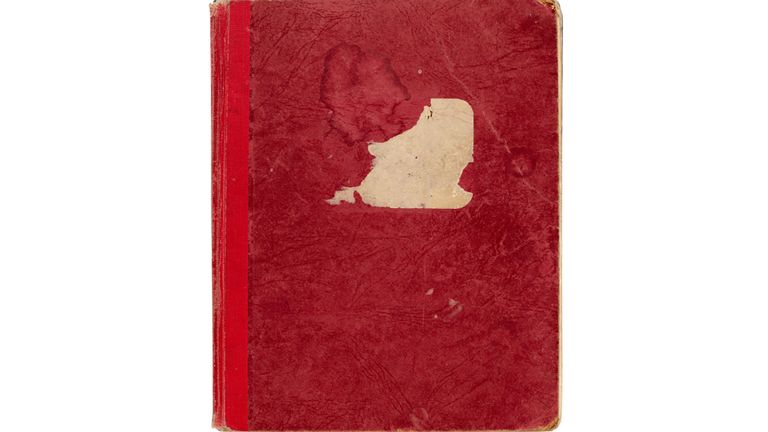 "I went as far as my limited capacity could take me. Rhapsody was quite a mammoth task, actually…luckily it became a major hit."
Another page of working drafts reveals an alternative to the famous second verse 'Mama, just killed a man'. Instead, a completely different wartime narrative is presented, 'Mama, There's a war began, I've got to leave tonight.'
Read more:
Cigar smoked by Sir Winston Churchill up for auction
Alec Baldwin given new 'quality of life' after suffering 'intense chronic pain'
Other belongings in the collection include stage costumes and furniture.
A coffee-stained notebook of Mercury's, believed to be his earliest collection of lyrics dating back to the period before Queen were signed as a band, has an estimated sale price of up to £180,000.
While an ivory satin catsuit, made for the Bohemian Rhapsody video, is estimated to fetch up to £70,000.
Source link