Shannen Doherty has revealed her cancer has spread to her brain.
Doherty was first diagnosed with breast cancer in 2015, and in 2017 she announced she was in remission.
However in 2020, the 52-year-old revealed her cancer had returned a year prior and that it was then stage four.
On Wednesday, the actress shared a video on social media showing her treatment.
In the video, the Charmed and Beverly Hills 90210 star was tearful as the doctor prepared her to enter the machine, which she said was a process of "getting fitted for the mask" which is worn "during radiation to your brain".
In the caption, the actress said: "On January 5th, my CT scan showed mets in my brain. Yesterday's video was showing the process of getting fitted for the mask which you wear during radiation to your brain.
"January 12, the first round of radiation took place. My fear is obvious. I am extremely claustrophobic and there was a lot going on in my life.
"I am fortunate as I have great doctors like Dr Amin Mirahdi and the amazing techs at cedar sinai. But that fear…. The turmoil….. the timing of it all…. This is what cancer can look like."
The day before, the actress shared another video with fans.
In the video, the doctor was discussing the process of making the mask that would be used during the scanning process.
Radiotherapy masks and moulds are used before a patient starts their treatment – these are also called shells.
Read more from Sky News:
Cancer patients face worsening treatment delays due to lack of staff, report finds
Smartphone camera lens technology to be used to diagnose thousands of skin cancer patients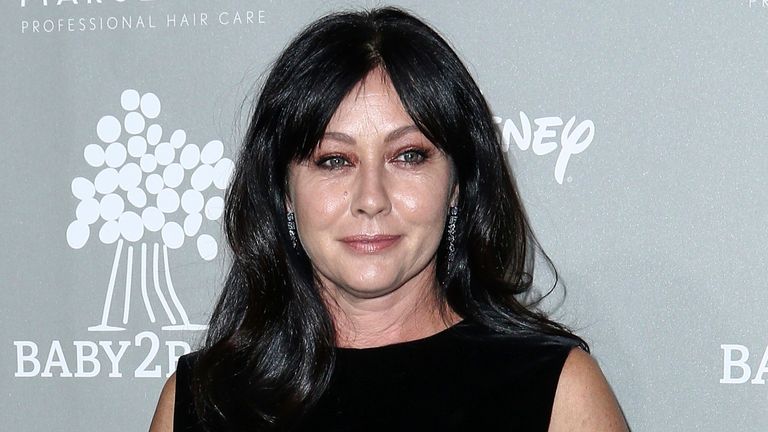 Speaking on Good Morning America in 2010, Doherty called the diagnosis a "bitter pill".
She added: "It's going to come out in a matter of days or a week that I'm stage four.
"So my cancer came back and that's why I'm here.
"I don't think I've processed it. It's a bitter pill to swallow in a lot of ways."
Breast cancer in women
According to the NHS, the first symptom of breast cancer that most women notice is a lump or an area of thickened tissue in their breasts.
It said you should see a doctor if you notice any of the following:
• A change in the size or shape of one or both breasts.
• A lump or swelling in either of your armpits.
• A new lump or area of thickened tissue in either breast that was not there before.
• A rash – like eczema – crusting, scaly or itchy skin or redness on or around your nipple.
• A change in the appearance of the nipple.
Source link