Central Arkansas suffered "significant damage" Friday, the state's governor announced, after meteorologists said a tornado touched down in North Little Rock, destroying homes and pummeling trees across the region.
"Praying for all those who were and remain in the path of this storm," Gov. Sarah Huckabee Sanders said on Twitter.
The mayor of Little Rock, Frank Scott Jr., asked for help from the National Guard and warned people to stay away from damaged areas.
The twister that touched down in North Little Rock on Friday afternoon also damaged Jacksonville and Sherwood, meteorologist Travis Shelton said.
"We're still dealing with a lot of active weather right now, we can't even leave our offices to investigate the damage," Meteorologist Jim Reynolds said.
The Arkansas State Emergency Operations Center issued a full activation in response to the severe weather Friday afternoon, according to a statement.
Almost 69,000 utility customers are without power in the state as of 4:30 p.m. E.T., according to poweroutage.us.
States at the greatest risk for strong EF2+ long-track tornadoes stretch from northeast Iowa to southern Arkansas and northern Mississippi. This includes cities like Des Moines, Davenport, Little Rock and Memphis.
Tornado watches were issued by the National Weather Service from Iowa all the way down to eastern Texas, including parts of Iowa, Missouri, Illinois, Arkansas, Wisconsin, Kentucky, Tennessee and Mississippi until Friday night. The agency warned that many tornadoes can be expected as well as "widespread hail up to apple size" and wind gusts up to 70 mph.
Kentucky Governor Andy Beshear declared a state of emergency on Friday afternoon ahead of the severe weather expected in the western part of the state.
"Severe weather in the form of damaging wind gusts, large hail, and several tornadoes (some strong) are expected today and tonight between the Midwest and Lower Mississippi Valley," the National Weather Service warned in a weather update.
A tornado warning was also issued in southern Iowa where at least one tornado was indicated by a radar, according to the National Weather Service field office in Des Moines.
Severe thunderstorms are also likely with flash flooding possible from the Midwest to the Lower Mississippi Valley on Friday, according to the National Weather Service.
"In order to further highlight the concern, the Storm Prediction Center has issued a Moderate Risk (level 4/5) of severe thunderstorms across parts of southeast Iowa, northwest Illinois, and northeast Missouri, as well as a separate area from northeast Arkansas to far western Kentucky," the agency said.
Storms will be moving incredibly fast at 55 mph and will go late into the night, making for very dangerous conditions, according to the National Weather Service.
Intense rainfall rates of up to 3 to 5 inches could bring flash floods to some localized areas. The areas with the greatest risk for flooding through Friday night are across "the Ohio, Tennessee, and Lower Mississippi valleys."
This major storm system is set to spread weather hazards across the central and eastern U.S. over the next few days.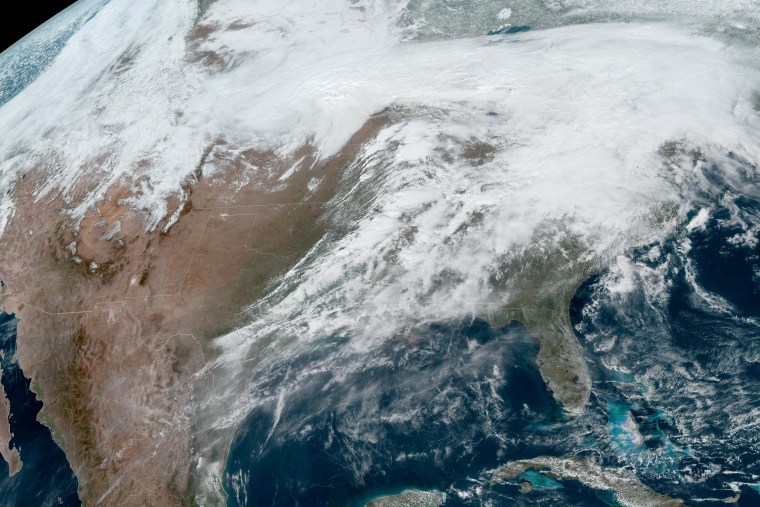 "The deepening low pressure system responsible for much of the anticipated active weather is forecast to push northeast from the central Plains today and enter the Great Lakes region by tonight," the National Weather Service said. "A strong cold front attached to this system will clash with warm and humid air surging into the Lower/Mid-Mississippi Valley, sparking numerous thunderstorms from the Midwest to eastern Texas."
The storms are then expected to travel eastward Friday night through to the Ohio and Tennessee valleys "before weakening early Saturday across the Mid-Atlantic and Southeast."
"Residents are advised to remain weather-aware and have multiple ways to receive weather alerts," the National Weather Service said.
High, widespread winds from the deep low pressure system are also expected to impact a widespread area across the central and eastern U.S.
Damaging winds are also possible across much of the Great Plains, the middle and lower Mississippi Valley, Tennessee and Ohio valleys through Friday night.
"The strong winds combined with low relative humidity will create conditions ripe for extreme fire behavior across the southern and central Plains," the National Weather Service warned. "Otherwise, wind gusts up to 60 mph could lead to tree damage and power outages across this region."