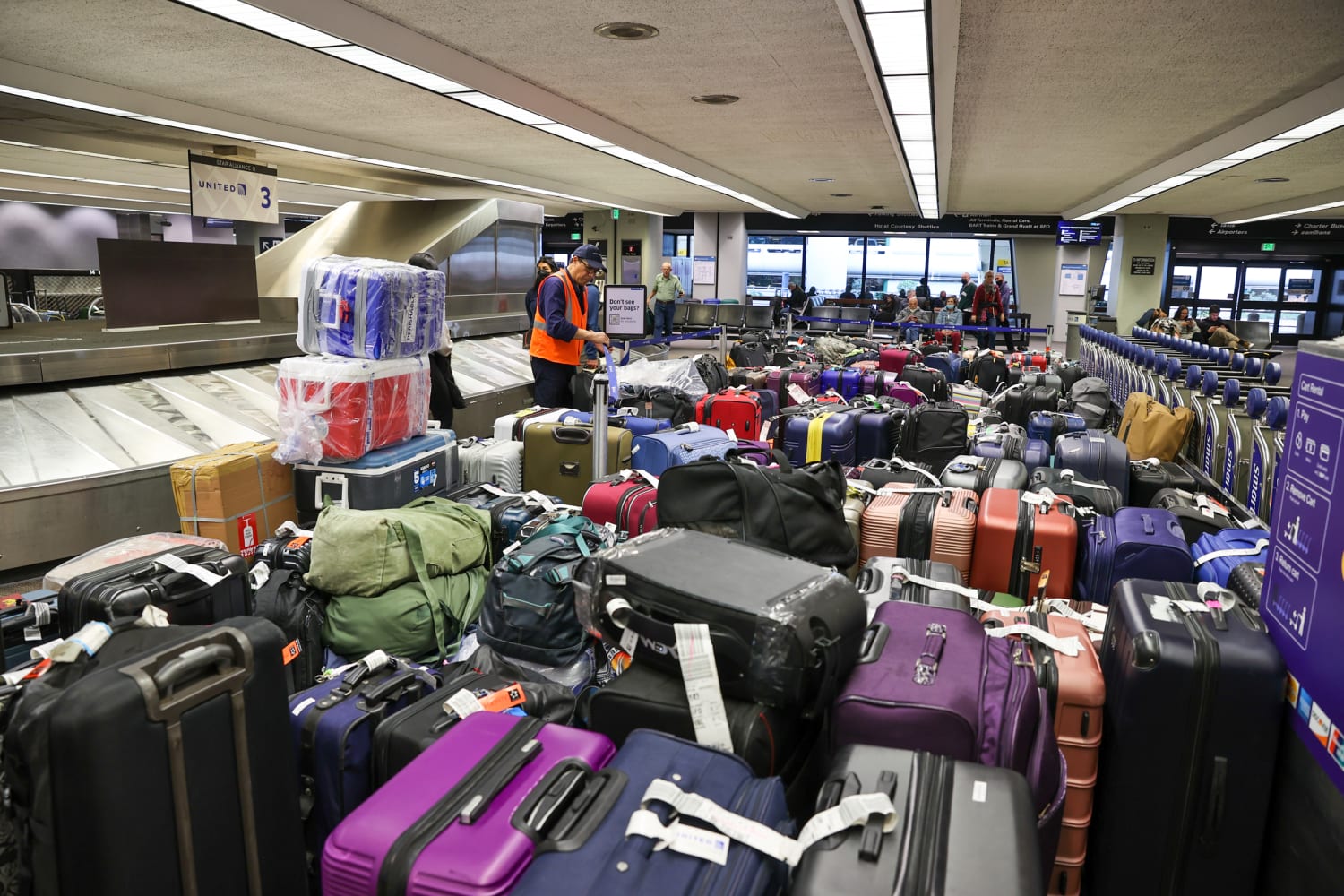 A chaotic travel experience for one United Airlines passenger ended this week after she used an Apple Airtag to help track down her lost luggage.
Valerie Szybala went viral after sharing her experience in a Twitter thread about how she put the tech accessory, which works with iPhone and other Apple devices to track and find belongings, in her suitcase.
Szybala, who was unavailable for an interview with NBC News on Tuesday, said she was then able to track her bag's location throughout the delivery process.
"I'd just like everyone to know that @united has lost track of my bag and is lying about it," she tweeted on Sunday. "My apple AirTag shows that it has been sitting in a residential apartment complex for over a day. Out back by the dumpsters, I have found other emptied United Airlines bags."
Szybala also tweeted screenshots of her conversation with a United representative, who told her to "calm down" when she brought up concerns about her luggage delivery. 
The representative stopped responding to her after she inquired about United's lost bag policy, she said.
After spending three days scoping out the apartment complex, Szybala was contacted by the courier service in charge of the delivery and reunited with her bag on Jan. 2, according to Mashable.
The delivery service, Couriers United LLC, did not immediately respond to a request for comment.
In an email statement, a United Airlines spokesperson said the airline has "been in touch with this customer to discuss this situation and confirm she has received her luggage. The service our baggage delivery vendor provided does not meet our standards and we are investigating what happened to lead to this service failure."
Szybala's travel woes came as many across the country faced flight delays and travel woes. All carriers were affected by a major winter storm that impacted most of the U.S. going into the Christmas weekend. Southwest Airlines, which canceled thousands of flights last week and infuriated passengers, said Tuesday it was making "solid progress" on processing refunds.
Following her tumultuous journey retrieving her lost luggage, Szybala advised people to take precautionary measures when traveling, including taking pictures of the items in a suitcase for reimbursement purposes and opting out of third-party delivery for lost bags.
"The 3rd party delivery service is where this got sketchy imho," she tweeted.
She urged people to use tracking devices like the AirTag in their luggage, which she said was a "lifesaver." 
AirTags have soared in popularity on Amazon amid the recent Southwest Airlines flight cancellations, although the devices have been criticized for allowing unwanted tracking in the past. AirTags were used in tracking lost luggage before, when a woman used hers to track her luggage near an airline subcontractor's home. The subcontractor, Giovanni De Luca, was arrested after authorities found stolen items in his home.