He also mocked the Russians for "gnawing among themselves over who should be credited with some tactical advance," saying it was "a clear signal of failure for the enemy."
After a string of embarrassing setbacks, the spat has overshadowed what would be the Kremlin's first battlefield success in months.
It came in a week that the Defense Ministry announced it was replacing its overall commander in Ukraine after just three months in charge. Gen. Valery Gerasimov took over from Gen. Sergei Surovikin, who will now serve as one of Gerasimov's deputies.
Prigozhin has previously accused Gerasimov, who was involved in the original planning of the invasion, of incompetence, and he has scathingly criticized the military brass for blunders in Ukraine.
He has found a powerful ally in Chechnya's leader, Ramzan Kadyrov, who has deployed elite troops from his southern Russian region to fight in Ukraine and has assailed the military leadership and the Kremlin for being too soft and indecisive.
While both have pledged loyalty to Putin, their public attacks on his top generals openly challenged the Kremlin's monopoly on such criticism, something that Russia's tightly controlled political system hadn't seen before.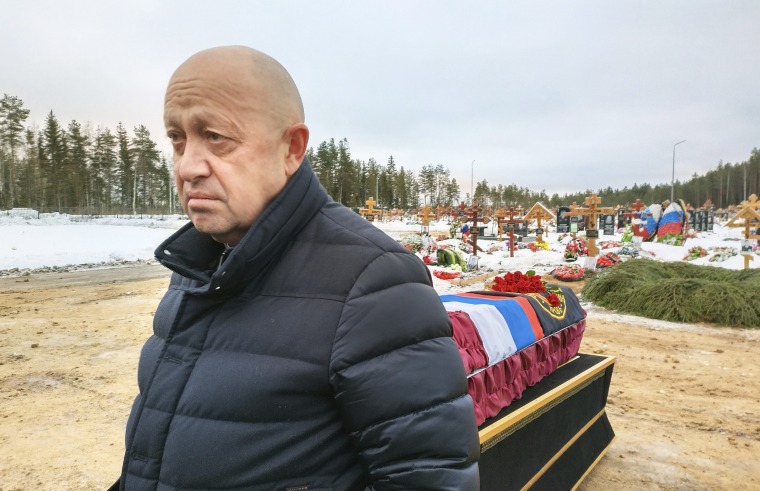 Gerasimov's appointment shows that Putin "sees a threat" from the pair, Frank Ledwidge, a senior lecturer on military capabilities and strategy at Portsmouth University in the U.K., told NBC News Saturday.
He added that the general was being used as a "human shield" by the Russian leader to "avoid blame for any further military disasters."
Prighozin, who in September toured Russia's penal colonies to recruit inmates, promising bounties and pardons in exchange for service, has been offering volunteers higher pay than is available within the Russian military, Ledwidge said.
Once imprisoned himself after he was convicted of assault and robbery, Prighozin recently released a video showing about 20 convicts who were allowed to leave the ranks of fighters after a half-year on the front lines, while also making it clear that anyone breaking ranks would face brutal punishment.
For Rajan Menon, a director at the Washington think tank Defense Priorities, the recent upheaval suggested "there is great chaos at the top of the Russian government and there is a positioning of power."
He said that infighting between the Defense Ministry and mercenary warlords might temporarily benefit Putin, who could act as an "arbiter handing things out to various groups," but he said this would be "destabilizing" militarily.
It has "probably occurred" to both Prigozhin and Kadyrov "that if the war ends badly, there could be a post-Putin Russia," he said.
"Putin has not been as politically vulnerable for some time, if ever," he said. "I'm not saying he's about to be ousted, but this is a very difficult situation for him and this is a war that he must win."
Associated Press contributed.
Source link