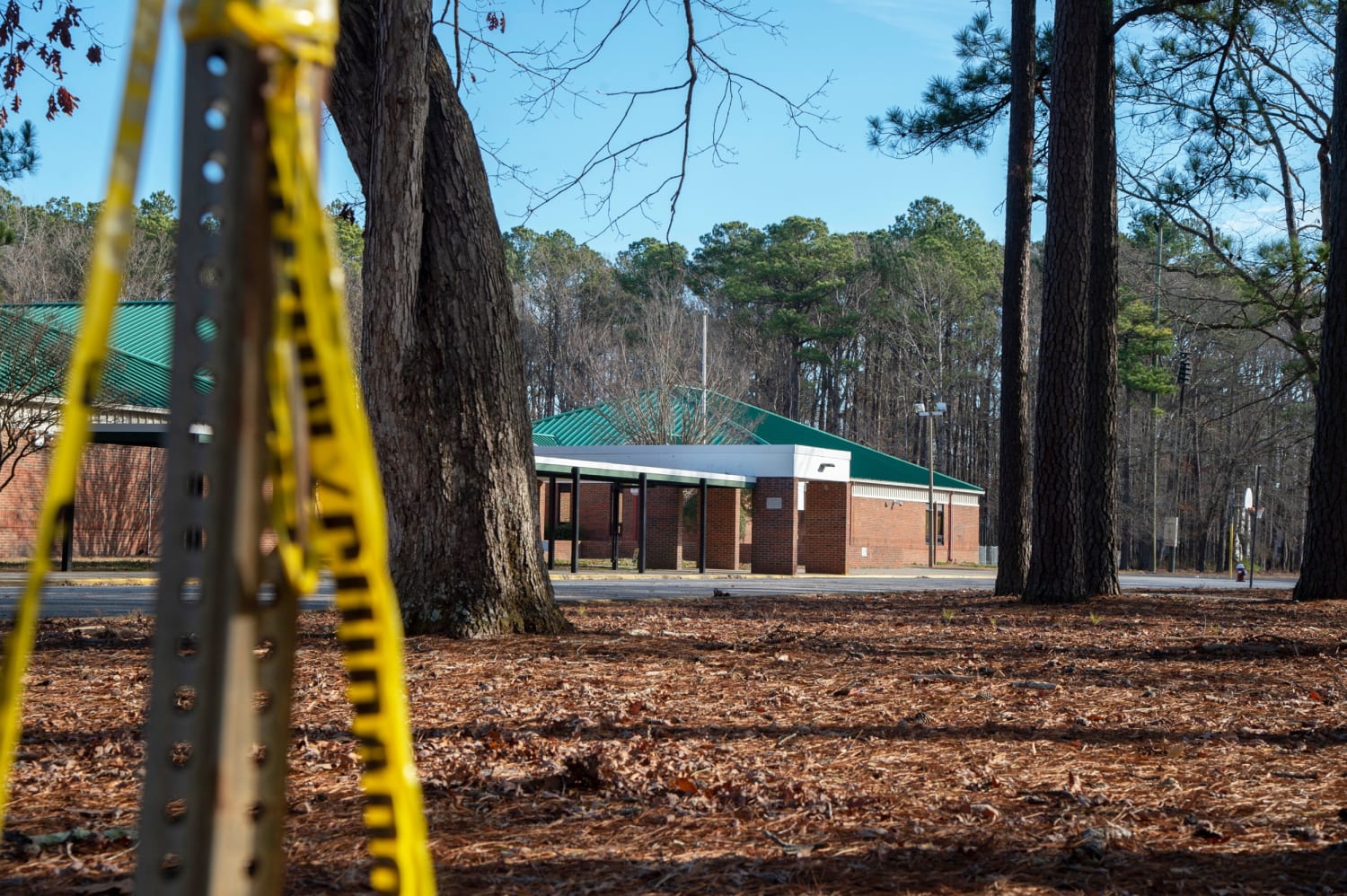 The Virginia school district where a 6-year-old allegedly intentionally shot a teacher on Friday has had three instances of gun violence on district property in the past 17 months.
Before Friday's incident at Richneck Elementary School, where police say a 6-year-old boy seriously injured a teacher when he opened fire in a classroom, there were shootings at two other schools within the Newport News Public Schools system that shook the community.
Newport News Public Schools consists of 26,500 students, and includes three early childhood centers, 24 elementary schools, seven middle schools and five high schools, according to the district's website.
In Sept. 2021 a 16-year-old fired several shots in a busy hallway inside Heritage High School during lunchtime, injuring two 17-year-olds, according to NBC affiliate WAVY.
The shooter was sentenced to 10 years in prison, according to the outlet.
Less than two months later in December, 18-year-old Demari Batten fatally shot 17-year-old Justice Dunham in the parking lot of Menchville High School after a football game against Woodside High School, also within the Newport News Public Schools system, according to WAVY.
Molly Hunter, whose three children attend an elementary school in the district, says the response from Newport News Public Schools to the violence has been insufficient.
"The response from the District has made parents like myself feel like the violence that is happening within the schools isn't being adequately addressed," she told NBC News. "I believe that the district is working hard — they have had a difficult time staffing our schools. They seem to be stretched thin and the violence problems are out of control."
Newport News Public Schools Superintendent George Parker III did not immediately respond to requests for comment.
Hunter says she knows fixing the district's gun violence problem is easier said than done, but actions such as installing metal detectors, having adequate staff, mental health counselors and stricter visitor policies in schools can all help.
"Also, sensible gun laws! We just need an overhaul of so many things," Hunter said. "Parents like myself are tired and scared, but also ready to fight for safety for all of our students."
Hunter isn't the only Newport News Public Schools parent who thinks metal detectors on campuses can help target its gun violence problem. Hanan Daoud, who also has children within the school district, agrees.
"Being sorry isn't enough!" Daoud commented on the school district's post about Friday's shooting. "What's your plan to stop this drama? Put Metal Detectors in school!!!!"
Speaking at a news conference Friday evening, Parker said, "We do have metal detection capability and all of our schools."
But he said the devices are not used all the time but rather can be activated ahead of a desired date based on a specific threat.
"If we have a perceived threat or an issue, we administer random metal detection on those days," he said. "We can check individual classrooms, individual students and students."
The superintendent said use of metal detecters could be ramped up, and district leaders will have that discussion.
Daoud told NBC News she recalled feeling "paralyzed" after hearing that there had been a shooting in the school district on Friday.
"One of my friends called me to check on my kids, I was shopping," Daoud said. "I was scared to death, got out of the store and called my husband to check where the shooting was."
The shooting didn't happen at the school Daoud's children attend, but was yet another traumatic incident that scared parents and students alike, she said.
Richneck Elementary School will be closed on Monday and Tuesday in response to the latest shooting.
Newport News Police Chief Steve Drew met with the teacher, a woman in her 30s, and her family Saturday morning, according to a statement released by police Saturday afternoon.
Both the police department and Riverside Regional Medical Center, where the woman was recovering, said Saturday she had been stabilized since being brought to the facility.
"She has improved," police said in the statement. "Because of the ongoing nature of the investigation, we will not be releasing any further information at this time."
Richneck Principal Briana Foster Newton said in a statement, "My heart is aching for our school community. The tragic event that occurred on Friday impacts all of us deeply," he said. "My thoughts and prayers remain with our teacher who was seriously injured, and our students and our staff, who are dealing with the aftereffects of this tragedy."
Newport News Mayor Phillip Jones called the shooting "a red flag for the country," according to The Associated Press.
"I do think that after this event, there is going to be a nationwide discussion on how these sorts of things can be prevented," he told the outlet.
In a tweet, Virginia Senator Mark Warner said he was "deeply disturbed" by the shooting and "closely monitoring the situation."
"My thoughts go out to all families and first responders," he wrote.
It's not clear at this time if the 6-year-old boy is still in custody or if he has an attorney.
Officials have yet to comment on where the child might have obtained the weapon, which police described as a handgun.
The Newport News Commonwealth's Attorney did not immediately respond to requests for comment.