The Oscars is a ceremony designed to celebrate the year's best films and the people who made them, but often the awards themselves get overshadowed by other events.
In recent years we've seen the wrong film announced as best picture, #Oscarssowhite trending on social media and of course, last year's now infamous slap by Will Smith, who later went back on stage to accept the award for best actor.
This year the Academy of Motion Picture Arts and Sciences, who are behind the ceremony, have for the first time implemented a crisis team who will be on hand should anything unexpected happen.
In preparation the team have been tasked with running practice scenarios, with the intention that they will react instantly should something controversial take place.
But it's not something that seems to have impacted plans for the show itself.
Speaking at a press conference, the executive producer and showrunner of this year's Oscars, Glen Weiss, says at the many events he's worked at there have always been teams in place to deal with difficult moments, but it's not something he's focusing on.
"We put on the entertainment, the secret service takes on the other stuff," he said.
Last month the Academy's new president (she took on the role last summer) Janet Yang told attendees at the Oscars Nominees Luncheon (an annual event that takes place in the weeks before the awards for those nominated) that she thought changes were necessary following what she described as last year's "unprecedented event".
"What happened on stage was wholly unacceptable and the response from the organisation was inadequate," Ms Yang said.
"We learned from this that the Academy must be fully transparent and accountable in our actions and particularly in times of crisis."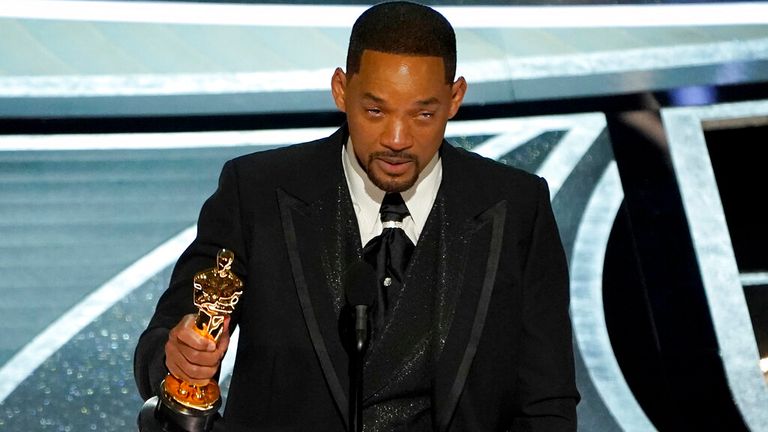 "We must act swiftly, compassionately and decisively for ourselves and for our industry – you should and can expect no less from us going forward."
"We are committed to maintaining the highest of standards while creating the changes we wish to see in our industry."
So, with a crisis team now in place, what are the chances they will actually be called upon? It's not as if anyone could have predicted the slap ahead of last year's Oscars.
But Academy CEO Bill Kramer, who is also new, having been in the position since last July, has told Time they have already in fact been put to work after the nominations came under fire following a very short and targeted campaign for Andrea Riseborough.
It saw a week of heavy promotion on social media for the actress's performance in To Leslie by Hollywood heavyweights including Jennifer Aniston, Ed Norton and fellow nominee Cate Blanchett.
When she was shortlisted for the lead actress award, some critics queried whether the nominations process is fit for purpose.
Mr Kramer told Time the Academy was "much more ready to handle the campaign regulations discussion" thanks to the crisis team.
"That happened on a Tuesday and, six days later, we were able to issue our formal statement from the board that really carved out a plan for us," he said.
"So you never know exactly what's going to happen."
Read more:
Top Gun: Maverick – Pro-Ukraine group calls on Academy to 'review eligibility' of sequel for Oscars
Hollywood's brightest stars on what it feels like to be nominated for an Oscar
Mr Kramer added: "But you have to have the teams and frameworks in place and the processes in place, to come together to figure things out quickly."
"But also making sure that you have the right groups of members and leaders and stakeholders who can come together to have a voice in this conversation."
The Academy has faced criticism in the past for being slow to change, but it seems perhaps lessons have now been learned, and with the Oscars still pulling in millions of viewers around the world (despite declining viewing figures) all eyes will be on the organisation – and its crisis team – should the unexpected happen.
You can watch the Academy Awards on Sunday 12 March from 11pm exclusively on Sky News and Sky Showcase.
Plus, get all the intel from our Oscars special Backstage podcast, available wherever you get your podcasts, from Monday morning.
Source link