Israel's political crisis is far from over. 
Prime Minister Benjamin Netanyahu may have relented to unprecedented public pressure and paused his contentious plans to overhaul the country's judiciary, but experts warned that the battle for the country's future may only be beginning.
The group leading the protests that saw hundreds of thousands flood the streets in Jerusalem and Tel Aviv and launch a general strike said Tuesday that they would keep up the pressure, even as the public unrest dissipated and the country's figurehead president invited negotiating teams from rival political factions to a meeting to begin talks toward a potential compromise.
Netanyahu, re-elected in November to lead his country for a third time, was scrambling to salvage his political future and his country's international reputation. And amid the firestorm over his judicial moves, Netanyahu is on trial on corruption charges, which he has denied.
"I feel relief but with doubt."
Tel Aviv resident and protester Fega Gutman
With President Joe Biden playing a role in persuading Netanyahu to think again — and with Washington signaling a long-awaited invitation to the White House may now follow — the United States' foreign policy is tied up in its ally's internal crisis, too. 
Here's what's at stake and what could happen next:
What is the fight all about?
While Israel's domestic  feud erupted onto the global stage on Monday, it has been spiraling for months.
In January Netanyahu, two weeks after being sworn in, announced plans to overhaul the country's Supreme Court and allow politicians a greater say in its appointments and decisions. 
Under the plans, the Knesset, Israel's parliament, would be able to pass laws even if the court had declared them illegal. They would also give Netanyahu and his allies the final say in appointing the nation's judges.
Critics argue that the proposals would deal a potentially fatal blow to the country's system of checks and balances, which are not enshrined since Israel does not have a written constitution. Opponents have framed the move as a power grab by Netanyahu to entrench his rule and the power of his right-wing allies, who hold a fragile majority in the Knesset.
Netanyahu argues that he is merely bringing his country in line with other major democracies and rebalancing power toward elected lawmakers.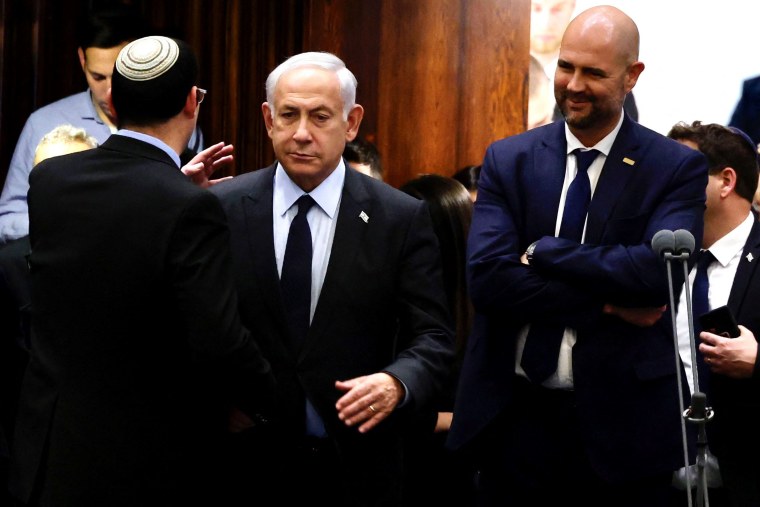 Mass protests began soon after, with tens of thousands marching in Jerusalem and Tel Aviv for months. 
The protests intensified suddenly Sunday night after Netanyahu fired his defense minister, Yoav Gallant, for expressing concerns that the divisions over the bill were harmful to Israel's security. 
On Monday trade unions called a general strike, grounding planes and shutting down shopping malls. Netanyahu eventually gave in to the pressure, telling the nation in a prime-time address Monday night that he would put the plans on hold for a month and would seek a compromise with his political opponents in order "to avoid civil war."
For many the news was greeted as a relief, but the scale of the protests and Netanyahu's history of political maneuvering gave others pause.
"Had the bill been passed I think we would have gone down the path of losing our democratic character, because without judicial independence, preservation of the rule of law and the protection of human rights, you can't really talk about liberal democracy in the true sense of this term," Guy Lurie, a research fellow at the Jerusalem-based Israeli Institute for Democracy, told NBC News.
"But one thing that I want to emphasize is that this is not over: The government very clearly said that they're not withdrawing the proposals altogether."
Who are the two camps?
The protesters against the revamp, thousands of whom waved Israeli flags outside government offices and the Supreme Court on Monday, contained many of Netanyahu's long-standing political enemies, including trade unions and youth groups.
But opposition to the judicial overhaul had spread far beyond, drawing in business leaders, diplomats and, crucially, Israel's vaunted military.
Many of those who joined the protests were moderate, secular Israelis without political affiliations who were concerned about the threat to the country's democracy.
"There's a large liberal segment of society and, I think even more so, there is a majority of Israelis who think that the [legislative] process was flawed and that any kind of change of such a constitutional significance must be made to a wide consensus," Lurie said.
Source link