MEXICO CITY — Mexican security forces on Thursday arrested cartel leader Ovidio Guzmán, son of incarcerated kingpin Joaquin "El Chapo" Guzmán, the country's defense minister said.
Guzmán's detention in Culiacan, the capital of the northwestern state of Sinaloa, the heartland of Mexico's drug trade, follows his short-lived detention in 2019.
News of Thursday's arrest sparked retaliatory violence throughout Sinaloa.
What's known about Guzmán's role after El Chapo's arrest?
Guzmán, known by nickname as "The Mouse," became a high-level leader in the Sinaloa Cartel after his father's arrest in 2016 and extradition in 2017. Guzmán and his brothers, known as Los Chapitos, or Little Chapos, emerged as leaders of one of the four factions in the cartel.
El Chapo's arrest also led to intensification of bloody clashes with the competing Jalisco New Generation Cartel (CJNG), which had split from the Sinaloa Cartel in 2010.
What happened during Guzmán's 2019 detention?
Authorities' bungled arrest of Guzmán in October 2019 embarrassed the government and spotlighted the challenges in cracking down on cartels, which control large swaths of Mexico.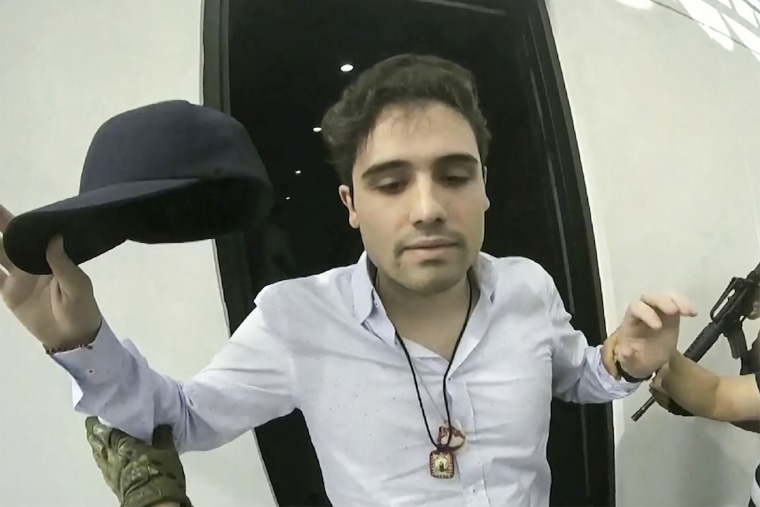 At the time, hundreds of cartel henchmen overwhelmed security forces in Culiacán, with scenes of the ensuing urban warfare shared in real time by terrified civilians on social media.
President Andrés Manuel López Obrador months later said he personally ordered Guzmán's release to protect the population.
Why is there a $5 million U.S. bounty on Guzmán?
The United States has sought Guzmán's extradition for years.
In Dec. 2021, the State Department announced a $5 million reward for information leading to the arrest of conviction of Guzmán and each of the Chapitos.
Guzmán has been charged in the U.S. with conspiracy to traffic cocaine, methamphetamine and marijuana into the United States. The State Department said Guzman oversees methamphetamine labs in Sinaloa responsible for producing "3,000 to 5,000 pounds" of the drug per month.
The State Department also said information indicated he had ordered multiple murders, including a popular Mexican singer who had refused to sing at his wedding.
Surging flows of the synthetic opioid fentanyl into the United States, where it has fueled record overdose deaths, have heightened pressure to capture Guzmán.
The U.S. Drug Enforcement Administration (DEA) considers the Sinaloa Cartel, along with the CJNG, to be responsible for most of the fentanyl inside the United Sates.
Last September DEA administrator Anne Milgram called the two cartels the "most urgent threat to our communities, our kids, and our families."
What does Guzmán's arrest mean for the government?
While López Obrador took office in 2018 promising to trade a hard-on-crime security approach for one that tackles the root causes of violence, homicides are near record levels.
López Obrador's decision to back down in the face of threats of violence by the Sinaloa Cartel in 2019 prompted criticism that he was soft on drug gangs. Guzmán's arrest Thursday could signal the government is willing and able to stand up to them.
The capture comes at an opportune moment ahead of a summit between López Obrador, U.S. President Joe Biden and Canadian Prime Minister Justin Trudeau scheduled for Jan. 9-11 in Mexico City.
Washington has pressured Mexico to do more stop cartels and the flow of drugs like fentanyl across the U.S.-Mexico border, with López Obrador promising in October to "take on fentanyl with full force."
Source link