As the Chinese leader left Moscow on Wednesday, Prime Minister Fumio Kishida of Japan, a close U.S. ally, left Kyiv after a surprise visit intended as a show of support for Ukrainian President Volodymyr Zelenskyy and a counterpoint to Xi's Russia trip.
Rahm Emanuel, the U.S. ambassador to Japan, said the dueling visits reflected "two very different European-Pacific partnerships."
"Prime Minister Kishida stands with freedom, and Xi stands with a war criminal," he said in a statement, referring to an arrest warrant the International Criminal Court issued for Putin last week over his alleged involvement in the abduction of Ukrainian children.
Moscow denies the allegations, while Beijing has accused the court of using "double standards." Neither Russia, China, Ukraine nor the U.S. are members of the court.
Putin the 'junior partner'?
Beyond Ukraine, Xi's Russia trip furthered his efforts to portray China as an emerging global leader, building on the momentum from a recent Beijing-brokered deal to restore diplomatic relations between Saudi Arabia and Iran.
While in Moscow, Xi and Putin talked up the idea of a world in which no one country makes decisions for others. "We are working in solidarity on the formation of a more just and democratic multipolar world order," Putin said on the Kremlin's website.
But what Xi's visit mostly underscored, experts say, is how imbalanced the China-Russia relationship is becoming.
"It certainly shows Russia needing Beijing far more than the other way around," said Ja Ian Chong, an associate professor at the National University of Singapore who specializes in Chinese foreign policy.
Sam Greene, a professor of Russian politics at King's College London, said Xi's visit was "essentially permission from Beijing to keep fighting," but that Putin didn't get much else on Ukraine, while announcements on economic cooperation largely favored China.
"While there were undoubtedly agreements we are not meant to know about, there is no indication here of a significant increase in military support for Russia — nor even of a willingness on Xi's part to ramp up diplomatic support," he said on Twitter.
Secretary of State Antony Blinken, who has warned China not to provide Russia with lethal military assistance, told a Senate committee on Wednesday that U.S. officials had not seen China "cross that line."
It "doesn't make any sense" that China would supply Russian forces with weapons, "especially at a time when China has actually tabled a peace plan," said Zhou Bo, a retired senior colonel in the Chinese army and a senior fellow at the Center for International Security and Strategy at Tsinghua University in Beijing. He also noted that the U.S. has not publicly released any evidence that China is contemplating providing such assistance.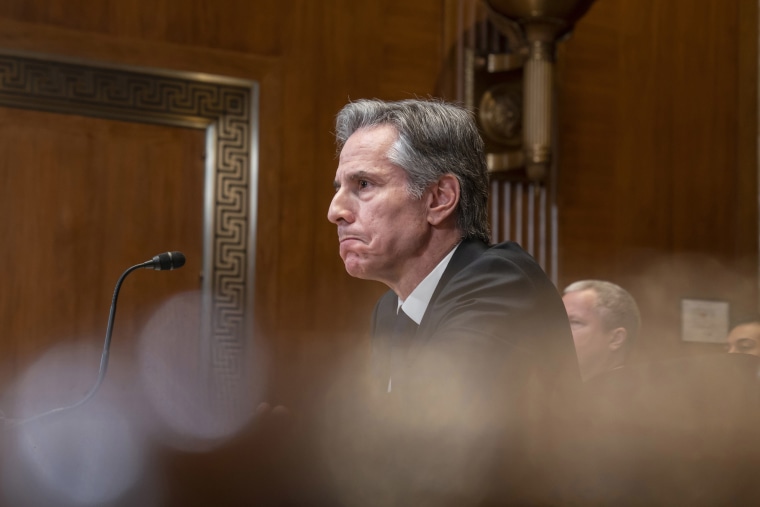 China says it is the U.S. and its allies that have been fueling the war in Ukraine by sending arms to Kyiv.
In his Senate testimony, Blinken called the China-Russia relationship a "marriage of convenience" in which Russia is the "junior partner."
"When it comes to China, they actually want a world order but an illiberal one," he said. "We continue to stand strongly for a liberal one. I'm not sure that Russia or Vladimir Putin wants a world order — maybe more like world disorder."
Zhou agreed that China and Russia have different outlooks, with China embracing globalization far more than Russia.
"We're not talking about destroying this order, because we are the beneficiaries," he told NBC News in an interview this week.
But there are ways in which the world could be reshaped more to Xi and Putin's liking, and their exchange appeared to be a reference to that, Chong said.
"Personally I think that's a little bit more of an expression of aspiration that tends towards hyperbole than any sort of real moment," he said.
Still, Chong said, having a "diminished but still important" partner in Russia lends credibility to China's vision of a new international order.
It illustrates "that it's not just China beating the drum and there's no one else following," he said, "because to be a leader by definition you need followers."
Abigail Williams and Janis Mackey Frayer contributed.